Americas Oldest Working Nurse Retires at Age 96 after 70 Years
July 16th marked the end of a 70-year nursing career. Florence Rigney, better known to her friends as "SeeSee", retired at the age of 96 from the MultiCare Health System in Tacoma, Washington.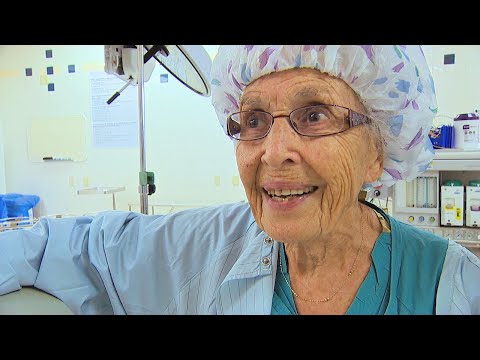 When Rigney started studying at the Tacoma General School of Nursing, penicillin was a new treatment. Over the decades, she has had a front-row seat to other medical advances. One of the biggest changes she cites is the length of hospital stays. There was a time when it was common for post-surgery patients to recover in the hospital for 10 days. Today, most patients are able to go home after just a day or two. 
During her long career, she saw much of the country and spent time in many states including Texas, Wyoming, and Washington. She also raised two children while working as an operating room nurse. Rigney has been responsible for setting up operating rooms according to surgeons' preferences and preparing patients for surgery. 
Her colleagues say that she never slowed down. They like to joke that they had to sprint just to keep up with her. Rigney also had a reputation for being the first to lend a hand. Even into her nineties, she was the first to answer a call to help move a pregnant patient.  
Rigney did try her hand at retirement before. When she turned 65, she handed in her retirement papers. However, after just six months, she was back at Tacoma General full-time. According to Rigney, "I don't like to sit around - I've always got to have something to do."
In the past few years, she did switch to a part-time role and helped out as a relief nurse. She remained active during her shifts, easily walking over three miles as she prepped operating rooms.
Advice for nurses
With 70 years of nursing under her belt, she has some advice to today's nurses: "Don't ever think that you know it all. I kind of did that when I was in the operating room and you always have to be open. You never stop learning."
To help honor her legacy and commitment to ongoing education, Multicare Health System announced that they will be starting the SeeSee Rigney Endowed Scholarship Fund, which will award scholarships to Multicare employees who would like to earn a nursing degree and current nurses looking to participate in professional development.  
There is no doubt that Rigney has touched thousands of lives over the years and that she will be missed by her fellow nurses and colleagues. During retirement, she looks forward to spending more quality time with friends and family.