Meet The Boston Red Sox Top 10 Nurse Heroes of 2018
The First-Pitch Nurse Hero Contest
It takes a special person to be a nurse - from celebrating the first breath to providing comfort during the last, nurses are truly amazing. This year, for the Boston Red Sox Nurse Appreciation Night, Nurse.org and the Red Sox will recognize 10 remarkable nurses during the pre-game ceremony at Fenway Park.
Congratulations To Nurse Jeffery Ballard! ⚾️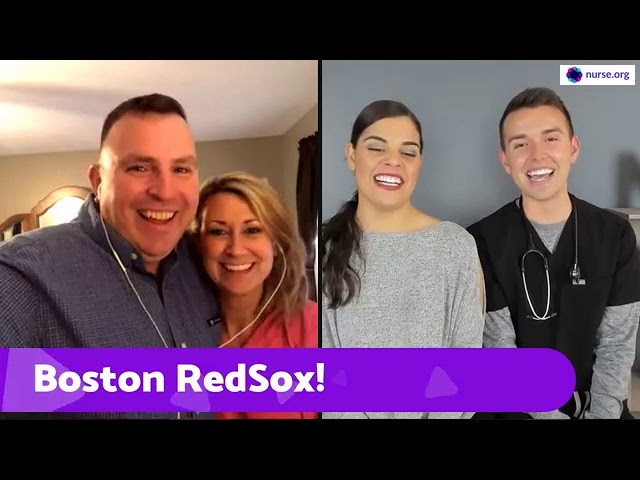 ---
Join Nurse.org and Figs Scrubs at the game! Meet Nurse Blake! 
Nurse.org selected 10 nominees out of more than 1,400 submissions to be honored at The Boston Red Sox Nurse Appreciation Night on May 15, 2018. The nurse who gets the most votes will throw the first pitch at the game! Read each story, then scroll to the bottom of this post to vote. Each vote will be counted once, multiple votes submitted by the same person and/or email address will not be counted. 
Voting is closed - stay tuned for announcements. 
Tim Clynch, BSN, RN
Tim sprang into action when he witnessed a man go into cardiac arrest at the gym. He was able to immediately get bystanders to call 911 and use the defibrillator to shock the man's heart back to life. Although the patient was a bit shocked when he woke up in the emergency room, he was thankful to Tim for saving his life and some say that is was nothing short of fate that Tim happened to be working out at the same gym.
Those who know Tim will vouch for the fact that he isn't looking for a pat on the back or even a "thanks," but he is an important example of how people and nurses can make humanity richer.
Tim Clynch is one of the everyday heroes who quietly goes about his work and practices bravery and selflessness without seeking or expecting recognition. For both patients and colleagues in the Emergency Room at Boston Medical Center, his actions have not gone unnoticed or unappreciated. His supervisor and nominator describes him as "a dedicated, brilliant and compassionate 'nurse hero.' He exemplifies kindness, humility, and professionalism – qualities that we all strive from but is notably inherent in Tim."
With over seven years of experience working as a nurse, Tim continues to comfort patients in their time of need by offering a non-judgmental listening ear. He has served patients as a talented caregiver and shared in moments of joy and sadness. Through it all, his passion for the profession and compassion for patients has never wavered and he manages to remain kind and respectful while also serving as a valuable example to others.
Elise Wilson, RN
Elise Wilson, a dedicated Nurse of over 35 years, was stabbed 11 times by a deranged patient during a routine assessment at Harrington Hospital.
Deep injuries to her neck and protection wounds to her arms left Wilson fighting for her life. Her horrific experience prompted international attention and pressured lawmakers to pass "Elise's Law"– a bill set to protect nurses throughout Massachusetts from violence. Today, Elise is an advocate for nurses and continues to fight for their protection. Nurses, the most trusted professionals in the country, need better protection.
Kristen Benoit
For one family, Kristen Benoit was truly a light in the mist the immense darkness. The family spent months at Mass General as the mother of three, including a 20, 18 and 13-year old, battled what would be a fatal brain tumor. As the mother slowly passed away, Kristen helped the family set up camp in the hospital room and spend time as a family.
During that time, Kristen demonstrated a level of caring and compassion that left an impression on the family. As the oldest child wrote, "Kristen quickly became our favorite nurse. She understood that we were grieving, completely lost, and saddened beyond belief. She was so incredibly gentle with my mother. Every time she came in the room, she was patient and caring." After the family had some time to recover, they reached out to Kristen to express their appreciation. What happened next was unexpected and magical.
It turns out that the patient had also been a nurse at MGH for over 20 years before she passed away. During that time, she had cared for Kristen's mother. Eventually, Kristen was able to return the favor and provide for the family.
Kristen was able to take an unimaginably sad situation and make it the best she possibly could. The entire family continues to be thankful for the care and kindness that was shown to everyone, including the mother. According to this family, it is clear that Kristen was born to be a nurse.
Michelle Markey, RN
Once you're a nurse, you're always a nurse. Michelle Ryan Markey of Tufts Medical Center is a prime example of excellence in nursing - she has been called into action on multiple occasions while "off-duty." Markey delivered a baby on the side of the road and saved a young man's life after witnessing a car accident while passing by with her family.
A wife and mother of four children and a dedicated Red Sox fan who can easily name each player and their position. What most people don't know is that she is also a dedicated and respected nurse who is a favorite among colleagues and patients. She would never want to be called a hero, but many would be quick to label her as such.
Michelle began her long career of service when she enlisted in the United States Army after graduating from St. Joseph College in Maine. After leaving active duty, she began a 23-year career at Tufts Medical Center in Boston. In 2014, she was awarded the Edward and Sylvia Jaye Excellence Certificate.
While her family knows of her achievements, they were able to see Michelle in action on an afternoon in May of 2012. While driving up Route 93, they came across an accident. Michelle immediately told her husband to pull over and got her children out of the car and to safety before tending to a young man who had been thrown from his vehicle. She was able to resuscitate him and keep him alive until more help arrived.
A few years later, Michelle was driving when she saw a young man frantically jumping up and down outside his truck the side of the road. She quickly pulled over and a few minutes later, she helped deliver a baby. The couple was on the way to the hospital when the situation becomes urgent. Fortunately, Michelle was in the right place at the right time.
In addition to her regular nursing duties, Michelle teaches clinical nursing at Curry College and is active in veteran affairs and the American Legion. Believe it or not, she also has time to coach lacrosse and soccer. She is a true example of selfless service that is guided by a compassionate and giving heart.
Prachi Shah
Prachi is a first-generation immigrant from India. As a young adult, Prachi traveled extensively with her family and witnessed firsthand, the lack of healthcare in many areas of the world. These experiences cultivated a passion to be of service to the less fortunate. 
Prachi was nominated by her unit on 6/7 Southeast at Lahey Hospital and Medical Center for her volunteer work in Uganda. In 2018 Prachi traveled to Uganda with LHMC personnel and the Catholic Health Initiative. Prior to her departure, Prachi envisioned how she might be able to support the Ugandan people in the delivery of healthcare. Purchasing laptop computers to support the use of electronic health records (EHR) in Uganda was one idea that Prachi hoped to achieve. With Prachi's leadership and determination and help from her colleagues on 6/7 Southeast, she was able to raise over $2,000 from raffles and a bake sale. All the money collected went to the purchasing of four laptop computers.
In early 2018, Prachi and the Medical Team went to Uganda. During her stay in Uganda, Prachi was able to work side by side with the medical team administering treatments, immunizations, and patient education. She actively participated in the installation, implementation, and education of the EHR for the Ugandan health center utilizing the new laptop computers. The installation of the computers was an essential mechanism of communication between the health care center and the outside world. The computer access and EHR were also critical to the health center's ability to apply for government funding.
She was born in the United States and attended Northeastern University for Health Science, and then transferred to Massachusetts College of Pharmacy for Nursing. Currently, she is enrolled in a Master's Program in Public Health at George Washington University. Her plans are to become a Nurse Practioner in Family Health and serve an international health organization, like the World Health Organization.
Prachi began her career at Lahey Hospital and Medical Center (LHMC) in 2016 as a Newly Licensed Nurse. From the beginning, the leadership team knew she personified the four Tenets of our organization's culture: Mutual Respect, Caring/ Compassion, Teamwork, and Excellence in Practice.
According to the American Nurses' Association, nursing is defined as "the protection, promotion, and optimization of health and abilities, prevention of illness and injury, facilitation of healing, alleviation of suffering, through the diagnosis and treatment of human response, and advocacy in the care of individuals, families, groups, communities, and populations." Nursing exemplifies the promotion and optimization of health and quality of life in all people. According to the nursing team on 6/7 Southeast at LMHC, Prachi Shah embodies these core values.
Her team says "Prachi is truly the essence of a professional nurse. She has unselfishly worked to help a community and country that lacks resources, and healthcare personnel." Her colleagues sincerely hope that she will achieve her dream of working for WHO and continue her work helping the less fortunate.
Sahar Khalaj
Sahar Khalaj serves as the lead nurse at the MGH organ transplant unit and is active in the Air Force Reserves. According to her friends and colleagues, she is also an amazing mother to a 4-year-old daughter. To those around her, she has a calming effect because she never appears flustered or stressed. She embodies the perfect combination of brilliance and caring, which makes her a warm, genuine and trusted nurse.
Khalaj saved a man's life in a car accident. She pulled the man out of his car and started CPR on him. By the time the ambulance arrived, he had a pulse. She later met him and his wife after the incident. 
She never settles for the assumed rationale for her nursing care. She has a curious mind and will ask "why" and advocate for what is best for her patient. Sahar is able to manage to work as a nurse on a high acuity transplant unit while also participating in the Air Force reserves. Her work ethic and time management skills are on point to allow her to serve her country. Sahar is truly a role model for all nurses. Her dedication to the profession as a transplant RN and the Air Force reserves is known to anyone that has had her as their nurse or worked beside her. There are many amazing nurses out there, but according to over 10 of her colleagues, Sahar Khalaj is certainly among the top and her efforts deserve recognition.
Chris Greenlee
Chris is a hero in many ways but, according to his nominator, what really makes him a hero is his backstory. Chris was born with the congenital heart condition called Tetralogy of Fallot. He had three open heart surgeries by the time he was 5. He has had two other open heart surgeries and countless other surgeries including a pacemaker insertion and several battery changes. He is 100% dependent on the pacemaker. His intrinsic rhythm is not able to sustain his life. Chris has never used his condition as a crutch. It has fueled him to do more and to give back to the profession.
After many years as a paramedic, Chris went back to nursing school to continue his dream of helping people. His love of emergency medicine has led him to the decision to continue his education and he will be starting a nurse practitioner program next month.
Chris has a way of putting people at ease. He is extremely diligent in his work and is not afraid to stand up for the patient or question a provider for the good of the patient. He has earned respect from nurses and physicians from all disciplines in his hospital system.
Jeffery Ballard
Jeffery has been a member of the Army National Guard for nearly 20 years. Just a few months after getting married in 2009, he deployed to Afghanistan. He served as an Infantry Medic and was injured while serving in combat. 
After several surgeries and months of physical therapy, Jeff was able to return to bedside nursing after being home for 14 months. He had returned to the Emergency Department where he had always worked before deployment. Sadly because of Jeff's emotional injuries and PTSD, returning to the Emergency Department almost destroyed him. Every day was a constant trigger for his PTSD and he ended up leaving the ED after less than a year.
Jeff was nominated by his wife who, at the time, clearly saw the pain he was in - both physically and mentally. Jeff was lost and his wife felt helpless. She could only offer him support and understanding.
What saved Jeff and made him an amazing nurse again was beginning work as a nurse at the Department of Veterans Affairs. Jeff has been with the VA for nearly 5 years now and has flourished there. While all nurses are compassionate and go above and beyond, his wife says that Jeff and his dedication to his patients and fellow nurses is one of a kind.
Jeff now works in a case management type role and serves in a program that helps elderly Veteran maintain their independence. These are vulnerable Veterans that could end up in Nursing Homes without nurses like Jeff. You can again hear the passion in Jeff's voice and see the spark in his eyes when he talks about the work that he does. Because he is also a combat veteran who has seen unimaginable horrors, the older Veterans, and especially the Vietnam Veterans take to Jeff quickly and they form a bond of trust that really helps them both heal.
Shelley Lynch MS, FNP-BC, RN, CCRN
Shelley was honored by the Massachusetts State Police at the State House for saving a life at the airport. This motivated her to start the  ACLS Academy, an American Heart Association training in Quincy, MA. The academy is run by Shelley and her husband Chad Lynch, together they teach CPR to everyone from healthcare professionals to the Girl Scouts!
Shelley also volunteers her time, heart, and money every March to go with Partners in Development to Haiti and care for patients in a clinic in Port-au-Prince. The clinic is adequately staffed by the Haitian medical community and the UMass Dartmouth team comes in March to support the clinic and also provide well-child check-ups. Shelley provides support and expertise as an FNP.   
Shelley has been dedicated to the nursing profession for 18 years as a bedside nurse, professor, and leader. She started a career as a bedside ICU nurse and still works in this role at Beth Israel Deaconess Medical Center. In the past 10 years, she received her master's in nursing education and a certificate of graduate studies as a Family Nurse Practitioner. Her whole reason to become an FNP was to have the education to go on medical missions. She is full-time Lecturer at UMass Dartmouth, an ICU Nurse at Beth Israel Medical Center, and a Nurse Practitioner at Freccero Medical Associates.
Over the years, she has received numerous letters from patients and families thanking her for her compassion. She is also a wife and mother of three boys. Her entire family is enamored by her love for others and want to see her get the recognition she deserves.
Gary Sonia
Gary Sonia has been working in the field of nursing for almost 50 years - dedicating 45 of those years to caring for children who have suffered burns to 50%-90% of their body. Sonia is a Vietnam War Veteran and Bronze Star Medic, he recently retired from Shriner's Hospital for Children as of November 2018.
At a time when young men were running away to Canada to avoid the draft, at the age of 18 Gary Sonia enlisted in the US Army. "They said that I had a high IQ on their tests and offered any of over 200 job specialties but the caveat was that I had to return the next day with my decision. I stayed awake all night staring at the ceiling and the next day I returned and told them that I wanted to help people rather than hurt them and asked to become a Medic," recalls Gary.
Sonia was informed that he placed #1 out of 357 combat medic trainees at Fort Sam, Houston TX. "It is funny that how one small decision can affect the whole remainder of your life!" says Sonia.
He saved many lives in Vietnam and was awarded the bronze star for volunteering to stay behind, as the sole medic, after his compound was evacuated.
Upon returning from Vietnam, Gary accepted a role at Shriners Acute Care Unit in Boston working with children who were 50%-90% burned - he spent the next 45 years at this hospital.
"For the first 24 years, I worked in the BCNU's (bacterially controlled nursing units)  which was working on the patients through a plastic bubble with laminar jet airflow from the ceiling and with high humidity and around 85% temperature. For the most part, these children were all on ventilators and Vasopressor drips with extensive and frequent bandage changes and graft care and multiple IV antibiotics. I was widely known as a highly skilled crackerjack critical nurse and thus most of my patients were in this life-threatening condition. Many patients died on me, especially in the 70s and 80s mostly from septic shock. I probably hold the record there for children dying on a nurse. Though, it wasn't a reflection on my skills but more due to the terrible acuity of these compromised children. I gave excellent critical care and was quick to identify a problem with them or a rapid decline in these patients and my coworkers often lauded me for that. Little did I realize until later that it was my hypervigilance developed in Vietnam that helped me quickly recognize trouble with my patient's condition.
After 24 yrs I moved to the Surgical Specialty unit which is like a large burn stepdown unit plus caring for scar release & grafting, plastic surgery, some orthopedic procedures and associated congenital defects such as craniofacial anomalies and scoliosis repairs etcetera. I spent 21 years on this unit and finally this November 2018 I retired from Shriners Hospital for Children in Boston. I don't really know where all the time went but I spent 45 years at Shriners Hospital and now I am 67 years old. Along the way, I married a wonderful woman (a nurse of course) and we have three amazing children and the cutest little 3-year-old granddaughter any man could ask for," says Sonia.
Gary was nominated by his daughter, she says, "he had a passion for the Boston Red Sox since he was a little boy and he would watch games with his father. Being recognized at a Red Sox game would be a true bucket list moment for my father and an amazing honor. He is a hero to his family and so many he has cared for over the years and one of many nurse superheroes."