Cardiac Mimics, 2 Free CEU Courses Online For Nurses
>>If you already watched the Cardiac Mimics part 1, click here to take the quiz to obtain your FREE CEU!
Jump To a Free CEU: 
Cardiac Mimics - Part 1 
Your patient is experiencing chest pain but it's NOT a heart attack. What could it be?
In this one-hour course, we will explore potential other causes that may be causing your chest pain outside other than myocardial infarction. What should you ask/assess for? What diagnostic tests should be ordered? And how do you know it's NOT an MI?
 
This is a one-hour free cardiac CEU course for nurses - you can watch the entire course in the video below! After you watch it, complete this quiz to receive your CEU certificate.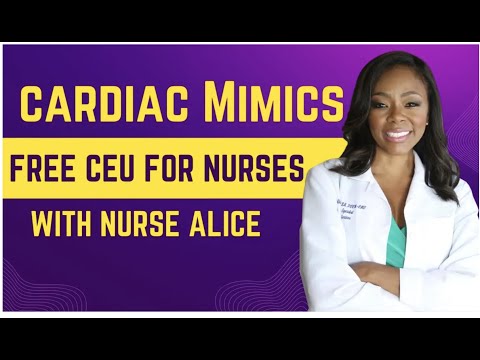 >>Click here to take the quiz and get your FREE CEU!
Course Outline 
How to rule out myocardial infarction
Discuss other causes of chest pain
Patient assessment
Diagnostic tests
Now that we have a good understanding of chest pain and cardiac rationales from the Cardiac Mimics part 1, it's time to do a deeper dive into the details of non-cardiac causes - the assessments. Why they cause chest pain and diagnostic tests and treatments for common pulmonary, gastrointestinal, musculoskeletal, and psychological conditions that can mimic cardiac chest pain. Below are the conditions we will cover. 
Pulmonary hypertension
Pleurisy
Pneumonia
Pulmonary embolism
Tuberculosis
Asthma
COPD
Pneumothorax
Pancreatitis
Esophageal spasm
Esophageal hypersensitivity
Esophageal rupture
Peptic ulcers
GERD
Hiatal hernia
Costochondritis
Muscle strain
Injured ribs
Fibromyalgia
Rheumatic diseases
Nerve entrapment/root pain
Herpes zoster
About the Instructor: 
 
Alice Benjamin, MSN, APRN, ACNS-BC, FNP-C, CCRN, CEN, CV-BC, also known as Nurse Alice, is a cardiac clinical nurse specialist and family nurse practitioner with over 23 years of nursing experience specializing in cardiology, critical care and emergency medicine. She is the host of the Ask Nurse Alice Podcast; an NBC Los Angeles Medical Correspondent and CEO of Nurse Approved. You can follow her at asknursealice.com, on Twitter and Facebook at @AskNurseAlice, and on Instagram at @asknursealice. 
 
CNE Provider: 
Nurse Approved, LLC
CA BRN approved Continuing Education Provider #17734