This Nurse-Lead Organization Teaches Emergency Preparedness Worldwide
By Mariam Yazdi
On January 12th, 2010 the country of Haiti was hit by an earthquake later known to be the "fifth-deadliest natural disaster in all of history." A total of 316, 000 people died and another 300,000 people were injured. The whole world ached for the communities of Haiti, and thousands of people flew in to assist with healing the damage that still afflicts the country to this day.
One of those people was Jacqueline Cassagnol, MSN, RN, Ph.D.(c) an accomplished nurse and professor from New York. She arrived in Haiti with a group of healthcare professionals to educate the community on first response and disaster preparedness. 
Jackie and her colleagues were in a Haitian classroom teaching CPR one day, when a student raised her hand and said something to Jackie that would change the course of her life forever.
"If I had known what you are teaching us today, many less people would have died in this earthquake."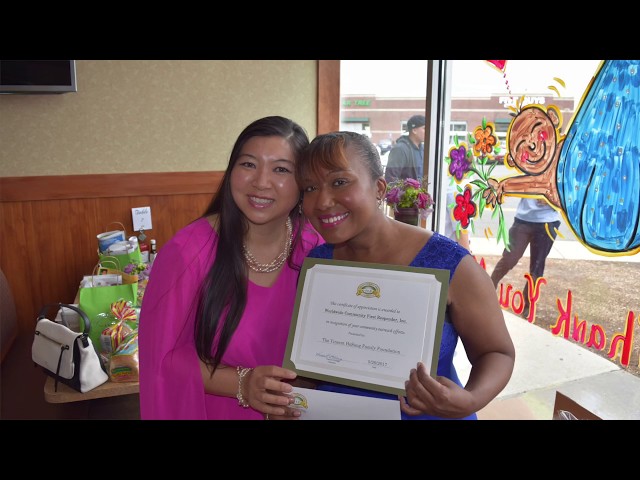 Because of this, Jackie was moved to create World Community First Responder (WCFR) a non-profit organization that provides health education, first response and emergency preparedness training for communities across the world. WCFR was born 8 years ago, and since then has trained and educated over 350,000 people, both locally and abroad. From the US to Haiti, to Ireland, China, and South Africa, Jackie and her team at WCFR are saving lives through empowering local communities with basic first response education. Read on to learn about this incredible nurse, and how she is changing the world one CPR class at a time. 
MY: How did you get inspired to go into healthcare and become a nurse?
JC: Most of my family is in the medical field. I grew up with nurses and doctors around me, and since I was a kid, I knew I always wanted to care for people. I would play nurse and pretend to treat people. I'm very fortunate that I knew from a very young age that I wanted to be a nurse. 
MY: What inspired you to start this non-profit organization? 
JC: After the earthquake in Haiti back in 2011, I decided to join a group of other healthcare professionals who volunteered to give first aid training to the local communities. While we were training a group of people on first aid, one student raised her hand and said: "If I had known what you are teaching us today, many less people would have died in this earthquake."
At that point, I broke down crying. Right there, in front of the students. And that was the moment that I knew I was meant to do this type of work. 
When I came back home, I knew I had to do something; I had to make a difference, because knowing first aid can save people's lives. I knew I had to create this organization. So I gathered my family and colleagues and invited them to join this project. That was almost eight years ago, and we've grown so much ever since. It's my passion, it's what I love to do. 
MY: What do you teach at WCFR?
JC: We do community based teaching of first aid and disaster preparedness. The lessons are for people of all ages and of all different professions - it doesn't matter how old they are or what they do for work; this is not just for healthcare professionals. For example, our youngest ambassador is 9 years old and his name is Jason. He now knows the basic things that could save someone's life. 
MY: Do you have any stories of WCFR training in action on the field? 
JC: There are so many wonderful stories of people putting into action the training they receive. Recently, one of our advisors was at the mall when a stranger nearby her collapsed. No one around her knew what to do, except her. She knew how to assess the person and how to determine if they needed CPR. Turns out the person was a heart transplant recipient and was having a seizure; CPR wasn't needed. But she had that knowledge and knew how to respond appropriately. (Click here to see the advisor tell her story – she is the third speaker) 
MY: Do you maintain your nursing license and work as a nurse?
JC: Yes, I do, however, I don't work at the bedside. I do online teaching, and I'm currently working on my PhD in Nursing at Pace University. I spend a lot of time in front of my computer as I'm currently revising my dissertation. It's actually on disaster preparedness! 
MY: What is your day-to-day schedule like? 
JC: It's crazy right now! WCFR takes up the same amount of time as a full time + part time job. Currently we are working on our upcoming Gala, which is being held October 5th. Our goal is to have fifty sponsors, so I find myself running around, constantly meeting up with different donors. With a non-profit, you are constantly working towards raising money and spreading awareness of the organization in order to afford to do what you do.
Also, about six months ago, I decided I was going to lose weight - and I lost forty pounds. Maintaining this level of fitness takes time and dedication, so I also make time to go to the gym 5 times a week.
MY: What other projects is WCFR working on?
JC: When my mother passed away last year, many people wanted to send flowers and other gifts. But my brother had a good idea that instead of flowers, people can donate to WCFR in honor of her memory. Using this money, we were able to give away scholarships in her name. We raised $2000 and have given away five scholarships to students pursuing a career in healthcare, in both New York and in Haiti.
MY: You have been awarded so many incredible awards and recognitions. What are your thoughts on receiving these titles? 
JC: People will comment on the amount of awards that the organization has received, or will even ask me if I get paid every time I get a new award (the answer is no, I haven't gotten any money for any award.) 
But I always accept these awards and thank the people who are honoring me and the organization. This is because each time I receive an award, it increases awareness of what we do. Our mission needs to be known, it needs to be supported, and it needs to stay alive in order to make a difference. Support for this organization is very much a chain reaction - when one person begins to support, others want to jump in too.
MY: What advice do you have for nurses who have a craving to make a difference in the world beyond the bedside?
JC: Volunteer locally. I've always volunteered, even before WCFR. Then I went abroad and it led me to that moment where I knew exactly how I wanted to make a difference, and here I am today. 
Volunteering is so important. For example, I have volunteers that work on our website. These volunteers are helping our non-profit organization using the skills that they have. There are so many organizations and so many things to do. You don't need to go all the way to Haiti to help out. Find your passion locally. If you start there, you will expose more of yourself and who you are, and you can more easily find what you are passionate about. 
MY: What drives you? What motivates you? 
JC: Those words that students made in the first training I did in Haiti is my constant motivation. If these people had known the basic things we were teaching that day, less people would have died. My motivation comes from knowing that the things I'm teaching will save someone's life. 
I'm not married and I don't have children. So most of my time is dedicated to improving the world. That's my motivation: to know that I can save somebody's life through somebody else. That is everything.
How To Volunteer and Support WCFR
Jacqueline wants to let the Nurse.Org community know that there are four ways to support WCFR, or any local non-profit organization that you believe in: you can get involved by being a volunteer, a member, a sponsor, or a donor. Click here to learn more about WCFR and the incredible work they do - and go volunteer! 
Awards & Accomplishments 
Jacqueline Cassagnol has been recognized with numerous distinguished awards for her community service. Here are just a few of them: 
Honored as a "Rising Star" by the Rockland Economic Development Corporation at the organization's 13th Annual Forty Under 40 Reception
Honored as the "Safe Community" Award Winner by Volunteer New York at the organization's 35th Annual Volunteer Spirit Awards Breakfast Benefit
"Nurse of the Year" by March of Dimes at the organization's Fifth Annual Nurse of the Year Gala in New York
"Nurse of the Year and President's Choice" award winner by HANA of Rockland County, Inc. at the organization's Seventh Annual Scholarships & Fundraising Awards Gala in New York
Distinguished "Founding Member" by the Greater Nanuet Chamber of Commerce in New York
Named Hudson Valley Hero in June 2017
Inducted in the New York Academy of Medicine in November 2018
Won the Haitian American Young Citizen of the Year Award from the US Haitian Chamber of Commerce, Inc in March 2019
Emergency Preparedness List: 
Image courtesy of WCFR