This is How I Went From Nurse To Marketing Executive at BALA Shoes
Nurse Leads BALA Shoes'
If you haven't yet watched the incredible feat that is the BALA shoe commercial, I'm going to have to ask you to do me a favor and go watch it immediately. The determined sprint, the fight for the ever-elusive and most-coveted bladder scanner, the gravity-defying jump off the wall, the superhero grande finale pose–it all works together to create what could be the greatest commercial I've ever seen. 
And I'm not alone in love for it–the commercial actually went viral and led many nurses to discover the BALA nurse shoe line. BALA Nurse Shoes were designed cooperatively with footwear professionals and tens of thousands of real nurses, combining the best of RN-favorite clogs and running shoes to create an optimal shoe just for the needs of nurses. The cooperation between real nurses and the company is important to Zach Smith, BALA's primary marketer and Head of Community because he's a nurse himself. He sat down to talk with Nurse Alice about the importance of advocating for nurses, the value RNs can bring to the table in roles beyond the bedside, and how his career has taken him from start-ups to success in the business world. 
Listen to Zach's episode on the Ask Nurse Alice Podcast! Now on Apple Podcasts, Spotify, or your favorite podcast player. 
*This article contains affiliate links
Nursing Skills Transfer Excellent to Business
Zach Smith, BSN, RN, who's been a nurse for 12 years, spent the first half of his career at the bedside and the second half of his career working in other health roles with start-up companies. But as he explained to Nurse Alice, he always had career aspirations beyond the bedside.
"I went into nursing knowing that I really wanted to work with people and I really loved what I was able to provide and the services I could provide society by being a nurse and caring for patients," he said. "But I knew and I felt that I had more to offer than a bedside role." 
Smith got his start by stacking his shifts whenever he could, so he'd have a stretch of time off in order to work on his own start-up companies. His first venture into business was in video marketing and from there, he moved into other opportunities. For instance, he was a founding member and former VP of Nursing at NurseGrid, a health-tech startup recently acquired by HealthStream. Smith still serves as their Strategic Advisor and now works as the primary marketer and Head of Community for BALA Nurse Shoes. 
Smith points out that almost all of his business opportunities since those early days have fallen with the nursing field, so he feels "fortunate" to combine both his passion for marketing with his love of being a nurse. "I think it's great," he said. 
Advocating for Nurses, Combating "Imposter Syndrome" 
Because of his ability to blend both business and nursing, Smith sees his role as one of an advocate for nurses in the field. "Nurses are carrying so much of the healthcare system and oftentimes, as a nurse, your job is to advocate for your patients–but who's advocating for the nurses? That's where I want to help make an impact," he says. "I want to advocate for nurses so we can put forward the best products possible that represent real nursing and not just the perception of what nursing is. You have to do that as an insider, as a nurse yourself."
It's important to Smith to present products for the reality of nursing (in this case, shoes, which are kind of a big deal when you spend 12+ hours on your feet), because he knows that reality–he notes that because nurses have that insider information and firsthand knowledge, they actually are primed to make excellent entrepreneurs. So not only is he advocating on behalf of all nurses with the products he's involved with, but he's also serving as an advocate for other nurses who are interested in expanding their bedside care into roles where their insider knowledge is extremely valuable. 
"I'm hoping that other people can hear this and we can get more entrepreneurs out in the field because nurses need more advocates for themselves and in the community and through that, we can start to see some of the changes we know we need," he adds.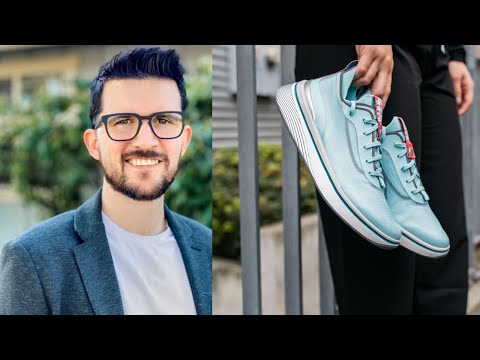 Although Smith admitted to Nurse Alice that he initially struggled with feelings of guilt and a bit of "what the heck am I doing?" moments when he transitioned to the business world from nursing, he points out that there are many parallels between nursing and business that actually make RNs ideal for other creative roles. For instance, he used an example of how his years of listening to patient complaints and problems, acknowledging their concerns, problem-solving together, and communicating to ensure patient satisfaction actually was the single best training for a role in customer support that you could get. "Forget about talking on the phone or chatting online," he notes. "When you are in the room with a patient, that's an intense support situation." 
In addition to customer service, Smith noted that nurses possess plenty of other skills that are valuable in the business world, from knowing how to work with a team to how to manage your time appropriately and prioritize pressing tasks. "There are many, many parallels between nursing and business," he says. "I hope more nurses make that leap and stretch out to the business field because I think the business field will be better off having more nurses involved in their corporations." 
BALA Shoes - Designed By Nurses, For Nurses
Fortunately, BALA Shoes puts this thought into action, actively incorporating real nurses into their design process. Smith explained that Bala has real nurses actively work with their design and production team to create a shoe that works for the needs of nurses on the floor. After the initial design process, they had 50 nurses test the shoe at work, then incorporated their feedback to create their final product. Nurse Alice--herself also a nurse entrepreneur--spoke to some of the specific needs an RN might need in a shoe. For instance, nurses:
Stand for long periods of time
Sprint to emergency situations
Stop and start suddenly
Get splashed with bodily fluids
Hold awkward positions
The two also discussed the real health impact that nurses face from prolonged periods on their feet, such as back and neck pain and leg swelling. BALA shoes are designed with features, like the right heel pitch (height) and weight distribution over the foot to help align the body and help decrease pain nurses encounter in their knees and hips. "It's been fascinating to learn about shoes and just how critical it is for the rest of the body," he observes. 
Of course, BALA shoes also include practical features like their ShiftShield, the flexible outer membrane on their shoe that deflects liquids and fluids. "We like to say it's in case you get a little shift on your shoes," Smith laughs. "Which we all know happens." 
Ready to get your own pair of Balas? You can buy them here for $130. They'd make an AWESOME gift for your special nurse. 
BALA Shoes Review and Where To Buy Them
BALA Shoes sold out within their first week. Proof that nurses love the shoes. Need more proof? Well, we polled our community of over 132,000 nurses and asked THEM to TELL us what their favorite shoes to wear to work were?
BALA Shoes made the list - Top 10 Best Shoes For Nurses, Reviewed by Nurses. Pretty good for a new company! 
We put all the shoes to the test, on the feet of actual nurses. And, had the nurses rank the shoes according to, 
Quality
Cost
Comfort
Water-Resistant
Sharpes Resistant 
Non-Slip
Style/Fashion
Ankle/Foot Support
Durability
Ability to Clean
Nurse Alice actually wore the shoes to work in the hospital and ambulance (she's a Critical Care Transport Nurse) - she rated them a 5 in all areas! Read Alice's full review of BALA Shoes here. 
Here's a photo of Nurse Alice in action dawning her BALAs! 
Right now, BALA Twelves are available in 3 colors on wearebala.com - with more colors being released later in 2021!
Women's Athletic Shoes Don't Exist
BALA also addressed a pivotal missing piece in the shoe industry that's actually a bit shocking to learn: there's no such thing as a women's athletic shoe. Smith let us all in on a little shoe industry secret, which is that nearly all running and athletic shoes are designed around a male foot, then "shrunk" to become a shoe for women. "Shrink it and pink it" is the term commonly used, which, he points out, is not only horribly offensive but also just a bad way to build a shoe that works, especially in the nursing industry, which is predominantly female-based. He notes that there are differences in female feet, such as the shape of the foot, a narrower heel, differing pressure points and sensitivities, and aesthetic preferences. 
Because of the lack of shoes created for women and the fact that nursing is a female-dominated industry, BALA started their launch with shoes created primarily for women--a "Her First Approach"--but are expanding and including sizes for men that will be launched in the next few months. 
Smith ended his conversation by stressing how teamwork and community are so important for all healthcare professions, which BALAfosters through their footwear and social media networks. You can follow @wearebala on Instagram to join in the nursing community, get encouragement and advice and learn all about other incredible nurses in the field. And psssttt: you can keep your eyes peeled for a very special limited edition color of Bala shoes dropping soon.