Part One What is an Oncology Nurse?
Oncology nurses care for people of all ages who are diagnosed with cancer. Oncology is a challenging field in which nurses support patients, families, and caregivers through the stress of diagnosis and treatment, and the anxiety of many uncertainties brought on by the disease, including facing mortality. 
As an oncology nurse, you'll be on a path of career-long learning that offers challenges, financial rewards, and professional growth. If you have a desire to get to know patients and the nuances of their needs and care, oncology nursing may be a good career choice. You'll often have the chance to develop deep relationships with people as you care for them throughout their cancer journey.
The oncology field today is different than in the early days of cancer treatment, with many more treatment options, better pain control, and reduced treatment side effects. The science is dynamic and continually evolving, with many new therapies on the horizon. Many people are making the transition from cancer patient to cancer survivor. In short, there is often hope for recovery, or for living with the disease. Oncology nurses have important roles to play all along the cancer care continuum.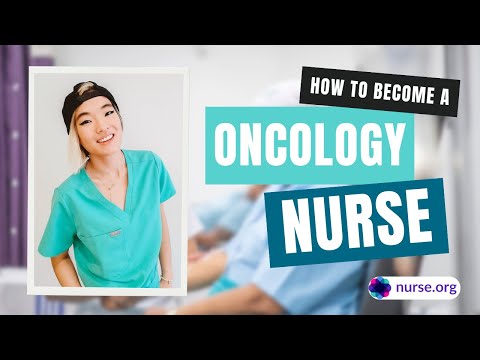 Part Two What Does an Oncology Nurse Do?
Oncology nurses care for individuals, families, and communities dealing with cancer, and the role has expanded to include many aspects of care including cancer education and prevention, cancer screening, research and direct patient care.
More specifically, oncology nurses will have the following job responsibilities:
Administer medications including chemotherapy
Care for patients after surgical procedures
Coordinate with other healthcare providers
Develop and implement care plans
Educate patients and families
Perform assessments on cancer patients
Support patients during radiation
Take vital signs
Where Do Oncology Nurses Work?
Oncology nurses work in many healthcare settings: 
Academia
Cancer centers
Chemotherapy infusion center
Clinics
Extended care facilities
Home care agencies (including palliative and hospice care)
Hospice centers
Hospitals
Infusion centers
Physician offices
Research center
Oncology Focus Areas
In addition to variety in work locations, there are many areas of oncology in which to focus. These include:
Bone marrow transplantation
Breast Oncology
Chemotherapy/infusion
Genetic counseling
Gynecologic oncology
Hematology
Immunotherapy
Radiation oncology
Surgical oncology
In many work settings, oncology nurses will learn safety precautions regarding caring for patients undergoing procedures and treatments where there is potential exposure to radiation and toxic substances, including chemotherapy. 
Part Three Oncology Nurse Salary
As with nursing in general, your salary as an oncology nurse will depend on your level of education, years of experience, size of employer, and where you live and work. But many employers offer additional compensation for achieving certification in your nursing specialty.
In May 2021 the Bureau of Labor Statistics (BLS) reported the mean annual income for registered nurses as $77,600, with a range from $59,450 to $120,250 per year, though conditions vary based on area. Unfortunately, the BLS does not differentiate between different specialties within nursing. But, according to ZipRecruiter.com, the average annual salary for an oncology nurse is $90,088 or $43.00 per hour and Payscale.com reports an Oncology Nurse makes $80,497 per year or $35.38 per hour.
Oncology Nurse Salary by Years of Experience
Specifically, Oncology nurses can earn a higher annual salary with increased years of experience.
Less than 1 year of experience earn an hourly wage of $29.67
1 to 4 years of experience earn an hourly wage of $32.41 
5 to 9 years of experience earn an hourly wage of $35.01
10 to 19 years of experience earn an hourly wage of $38.59
Over 20 years of experience earn an hourly wage of $39.00
Oncology Nurse Practitioner Salary
Oncology Nurse Practitioners have the ability to earn more due to advanced responsibilities and degrees. According to Payscale.com, the average annual salary for an oncology NP is $101,280.
Specifically, Oncology NPs can earn a higher annual salary with increased years of experience. 
Less than 1 year of experience earn an average salary of $93,821
1-4 years of experience earn an average salary of $97,544
5-9 years of experience earns an average salary of $103,163
20+ years of experience earns an average salary of $116,676
Oncology Nurse Benefits
Regardless of the workplace setting, full-time and part-time nurses enjoy similar benefits. While actual benefits may vary depending on the institution most include the following:
Health insurance
Certification Reimbursement      
Retirement Options
Family Leave of Absence
Maternity Leave
Dental Insurance
Dependent health insurance coverage
Life Insurance
Paid time off
Relocation assistance
Childcare
Bereavement leave       
Vision Insurance        
Discounts       
Education Reimbursement
Advanced certification reimbursement
Attendance at nursing conferences
Part Four How to Become an Oncology Nurse
In order to become an oncology nurse, you'll need to complete the following steps:
Step 2: Become a Registered Nurse by passing the NCLEX examination
Step 3: Gain at least 2-3 years of relevant oncology nursing experience
Step 4: Get Certified
Oncology Nursing Certification
The Oncology Nursing Certification Corporation offers six different certifications. Certification in the field boosts your confidence, keeps your knowledge up to date, helps you provide the best possible patient care, is an advantage in the competition for jobs, and can enhance your annual salary. 
The following certifications are available, depending on your interests and experience:
*Require a master's degree in nursing. See 2017 Oncology Nursing Certification Test Candidate Handbook to review available pathways to certification.
The ONCC provides a handy online tool to help you calculate if you have enough oncology nursing experience to sit for a certification exam. You can also download content outlines for specific exams and take one cost-free sample test to help you prepare. 
Part Five Top Oncology Nurse Programs
Oncology nurses only require an active nursing license and experience. However, many nurses choose to earn post-graduate education in oncology nursing, whether that be a certificate or a graduate degree. Because of the range of programs and the fact that individual nursing pathways and careers take various forms, the top 10 oncology nurse programs are ranked in no particular order. 
Annual Degree Cost: $22,056 (estimated)
Online: No
Program Length: 1 year
Duke University has some of the best graduate nursing programs available, and the MSN with a specialization in oncology is no exception. The program meets standards set by the Oncology Nursing Society Scope and Standards for Advanced Practice in Oncology Nursing and takes just one year or less to complete. During the program, nurses earn 224 clinical hours and nine credit hours on top of the regular MSN requirements. However, anyone who already has an MSN can enroll directly into the oncology specialization program. 
Certificate Cost: $11,300
Online: Yes
Program Length: 1 year
While some schools offer degrees with specializations in oncology, schools like Loyola University Chicago instead offer a certificate in oncology. The oncology nursing certificate program is intended for anyone with a BSN and is available entirely online. The program consists of just four courses, so even part-time students should have no trouble completing the certificate in one year or less. However, LUC does require all applicants to first gain some professional oncology nursing experience. 
Certificate Cost: $10,084
Online: Yes
Program Length: 1 year
Completed either as part of an MSN or as a post-MSN certificate, the University of Alabama at Birmingham's oncology specialization only accepts students during the summer. However, nurses complete their courses online, though UAB does require some on-campus intensives. Studying part-time and year-round, oncology students should be able to complete the certificate in just one year. 
In-State Annual Cost: $6,410 Out-of-State Annual Cost: $17,324
Online: No
Program Length: 3 years
Perfect for nurses with little to no oncology experience, the University of Southern Florida's BSN-DNP with a focus in oncology/adult-gerontology primary care nurse practitioner comes in both a part-time and full-time format. The length and cost of this program vary based on how quickly students complete their courses and earn clinical experience. To qualify, applicants should become licensed RNs in Florida. 
Annual Degree Cost: $47,114
Online: No
Program Length: 2 years
An Ivy League school with some of the most well-respected graduate nursing programs in the nation, Yale University's MSN with a concentration in oncology allows nurses to pair a nurse practitioner specialization with oncology. Because it's an NP program, students need to complete hundreds of clinical hours, all of which must be done in-person. Because different NP specializations set different credit and experience requirements, this program could be longer or shorter than two years. 
Annual Degree Cost: $69,246
Online: No
Program Length: 2-4 years
New York, New York-based Columbia University is definitely one of the more expensive options for nurses looking to complete an oncology program. However, Columbia provides students with flexibility, allowing them to choose a specialization in either adult or pediatric oncology. The program comes as a DNP, so both BSN and MSN holders can apply. Of course, those with an MSN and active NP license can complete this program quicker, reducing the total cost of the doctoral degree. 
Certificate Cost: $700
Online: Yes
Program Length: 10 weeks
The University of Southern Indiana offers one of the fastest, and most affordable, certificates in oncology. The 10-week program uses online courses, and students interact with each other via email and online boards. However, to become eligible for the Oncology Nursing Certification, students do need to complete 50 contact hours. The program is meant for current nurses and healthcare providers, but it doesn't require a BSN, MSN, or any specific degree. 
Certificate Cost: $75,222
Online: Hybrid
Program Length: 1 year
The University of Pennsylvania's School of Nursing ranks among the best in the nation. However, studying at a quality institution comes at a price. The adult oncology specialty certificate is pricey, but it does include 250 hours of clinical experience. Upon completing the program, nurses qualify for both the Oncology Certified Nurse Practitioner or Advanced Oncology Certified Clinical Nurse Specialist certifications. UPenn accepts current graduate students and practicing nurses with a master's degree. 
Certificate Cost: $10,020
Online: No
Program Length: 1 year
Created for anyone with an MSN and national certification, Felician University's adult oncology nurse practitioner post-master's certificate program prepares students for the Adult Oncology Nurse Practitioner exam. This 12-credit program requires at least 500 clinical hours completed at the Hackensack Meridian Health John Theurer Cancer Center in Hackensack, New Jersey. Anyone interested in the program must also have an active RN license in New Jersey. 
Certificate Cost: $36,960–$47,040 depending on full-time or part-time status 
Online: No
Program Length: 2 years
Great for anyone looking to become an oncology NP in California, Azusa Pacific University's oncology nurse practitioner certificate requires 24 units to complete. Nurses complete courses in the program in the evening and earn at least 12 clinical hours each week. While not required, students in the program can also count credits toward a DNP. The program also connects students with nurse oncology mentors, and that could help nurses find their next position. 
Methodology
This list is based on a number of factors including:
Reputation
Tuition
Acceptance rate, when available
Only ACEN and CCNE approved programs are eligible
Nurse Panel
Our selection panel is made up of 3 Registered Nurses with years of experience and multiple degrees:
Tracy Everhart, MSN, RN, CNS
Tyler Faust, MSN, RN
Kathleen Gaines, MSN, BSN, RN, BA, CBC
Part Six Oncology Nurse Career Outlook
The BLS predicts that nursing employment will grow at a rate of 6 percent through 2031 – much faster than the average for all jobs. There is a shortage of nurses, with baby boomer nurses nearing retirement and the growing health demands of our aging population.  
To discover opportunities in oncology nursing visit our Job Board.
In its report, Cancer Facts and Figures 2017, the American Cancer Society estimates that in 2017, over 1.6 million people in the U.S. will be diagnosed with cancer, which excludes noninvasive and several other cancers. The disease is the second leading cause of death next to heart disease, and about 1650 people die from it every day (a total of about 600,920 people each year). 
Cancer affects many body systems and all age, racial, and cultural groups. As the risk for many cancers increases with age, the demand for oncology nurses will likely increase in areas such as screening and prevention, health status monitoring, symptom management, direct nursing care, and patient/family/caregiver education. 
Methodology
This list is based on a number of factors including:
Reputation
Tuition
Acceptance rate, when available
Only ACEN and CCNE approved programs are eligible
Nurse Panel
Our selection panel is made up of 3 Registered Nurses with years of experience and multiple degrees:
Tracy Everhart, MSN, RN, CNS
Tyler Faust, MSN, RN
Kathleen Gaines, MSN, BSN, RN, BA, CBC
Part Seven Continuing Education Requirements for Oncology Nurses
Clinical practice and continuing education requirements for renewing a nursing license, certification, and advanced practice certification vary by state and credentialing agency. Check with your state board and professional organization for the rules on keeping your RN license and certification up to date. 
You can also visit our CE Guide for details.
Part Eight Oncology Nurse Jobs
Many sources can get you started in your search for oncology nursing positions. First, check the "Careers" pages of websites for hospitals and agencies that interest you. Many online resources are available for job searches, including nursing social media sites, career sites, and dedicated nursing career sites such as our job board. 
You can also check for opportunities with comprehensive cancer centers, so named by the National Cancer Institute (NCI), and members of the National Comprehensive Cancer Network. These organizations have a strong commitment to advancing cancer science and treatment as well as to providing leading-edge patient care. 
Oncology nursing is a rewarding field, with challenges on many levels: ever-changing knowledge and technology requirements in a continually evolving area of medicine, and having to face emotionally charged situations as part of one's daily work. The oncology nurse has the opportunity to grow both professionally and personally, forming deep and trusting relationships with patients and families over time.
While self-care and maintaining personal/professional life balance are critical for all nurses, it is especially important for the oncology nurse to regularly practice self-care, incorporating activities that bring physical, emotional, and spiritual renewal. Oncology nurses make significant contributions to caring for the patients they serve, the healthcare system, and society as a whole.
Part Nine Oncology Nursing Resources
Learn more about oncology nursing by searching the web and talking with nurses currently working in the field. Tap into social media, visit your local nursing school to chat with an advisor, and visit the websites of professional organizations for oncology nursing. Some of these organizations include:
$70,000 - $90,000
Associate
Bachelors
Oncology
Bedside
RN