Why Nursing is a Great Career Choice for Men
According to the U.S. Bureau of Labor Statistics (BLS), as of 2019 more than 12% of Registered Nurses in the U.S. are men. And while nursing has been a historically female-dominated industry, the tide is certainly changing for gender equality in all professions. 
The benefits of a nursing career -- from job security to flexibility to the reward of helping people in very tangible and immediate ways -- certainly don't extend to just one gender. And many predict that the demand for more males and non-female genders in the nursing profession will only continue to grow. 
Here's more on why nursing is a great choice for men to get into right now.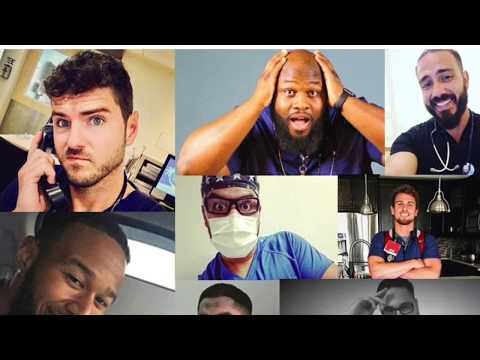 Why More Men are Getting Into Nursing
The numbers don't lie: more and more males are getting into the nursing profession. According to a March 2020 article, the four central hospitals in Ohio all saw a marked increase in their number of male nurses. Nationwide, Children's hospitals' ratio of male nurses jumped 66%, while Ohio State University's Wexner Medical Center doubled their rates of male nurses over the past decade. 
There is also a demand for more male nurses in the healthcare field, as providers and patients alike become aware of the many benefits male-identifying nurses can provide. For instance, the presence of more male-identifying nurses can help ensure that male patients feel represented. And for certain sensitive procedures, patients might prefer a nurse of a certain sex, particularly for procedures such as inserting a catheter, using the bathroom or bedpan, or giving an enema.
6 Benefits of Becoming a Male Nurse
As described in Minority Nurse Journal, men are entering into the nursing workforce for a variety of reasons, such as a shift in availability in other traditionally male professions, like the automotive industry. And of course, the benefits to males who want to enter the nursing profession are numerous too, including:
Career Stability: The demand for Registered Nurses is predicted to exceed 3.19 million by 2024. 
Stable Pay: Minority Nurse notes that unemployed men who move into female-dominated careers -- such as nursing -- tend to see a 3.8% rise in their pay. 
Career Flexibility: Nursing is a unique field that allows for part-time, full-time, variable, per diem, or combination shifts. And because many male nurses enter the field mid-career, flexibility may be even more prized. 
Travel Opportunities: Male nurses who are interested in travel can enter the field of travel nursing to try their hand at learning new skills and traveling to new places. 
Scholarships for Male Nurses: There are a variety of scholarships available to prospective male nurses, such as those offered through the American Association of Male Nurses.
Most Popular Specialties for Male Nurses
There are male nurses in every nurse specialty -- from obstetrics to geriatrics to sexual assault examiners. But there seem to be certain specialties that attract a larger number of men. Some of the more popular specialties for male nurses include: 
Male Nurses on Why They Love What They Do
The faces of men in the nursing field are diverse, as are the reasons driving them to choose nursing as a profession. For example, Roosevelt Davis, MSN, RN earned his MSN after a football career to become a Pediatric Cardiovascular ICU (CVICU) nurse at the Children's Hospital of Orange County. He was inspired by an early introduction to the healthcare field, as well as having a close friend die from a car accident.  
"Nursing, and healthcare positions are professions that aren't traditionally even considered by most student-athletes. And, in my experience, even less football players and men of color are exposed to the nursing realm," he told Nurse.org. "I encourage men, especially black men and people of color to 100% consider nursing as a career option." 
Marty Robbins, on the other hand, has enjoyed seeing more male nurses enter the profession after over 15 years on the job. He relates how profitable the field of nursing can be. "If you are smart and use shift premiums, work holidays and some overtime, there's no reason you shouldn't make $90,000 to $100,000," he adds.
However lucrative the field of nursing may be, however, at the end of the day, you don't go into nursing for the money -- you go in for the heart. "I'm not here to do this for me," Davis told Nurse.org. "I do this for them - my patients. And, if I don't do it right, then who else is going to?" 
Attracting More Men to the Industry
One of the best ways to attract men to the field is to go into more junior high and high schools to teach kids and counselors about the career for both genders.
Excelsior College has a partnership with the American Assembly for Men in Nursing (AAMN) to help increase the percentage of men at the bedside. The college's largest academic program is its associate degree program in nursing with over 16,000 enrolled students.
The Stigma of Being a Male Nurse
Larry Meneghini knew a linebacker a few years ago who played for St. Xavier University in Chicago. He also was majoring in nursing. "He was tough as nails. He'd be on the gridiron on Saturday, yet helping an elderly man with care on Sunday," he says. He now works in a Chicago hospital.
Meneghini is an associate professor of nursing at a university. He also heads a chapter of the AAMN. "I followed in my mom's footsteps instead of my dad's since she was a nurse. It was an opportunity for me to take care of people," he explains.
In his 35 years in nursing, he has definitely seen the stigma and misconceptions of men being nurses fade away. "Some people out there think that guys who become nurses are doing it because they can't get into medical school. If you truly care about nursing, you're not going to care about what people think," he says.
He admits that men who go into nursing do face those obstacles sometimes, but those are going away as new generations come into play and have different outlooks and feelings. "Just like women, men also have emotions," he says. "They like to see their patients do well."
"You can't put a gender on tender loving care," Meneghini explains. "The good thing about nursing is that I've never been out of work. I never worried about where my next paycheck would come from. If I ever lost my job on a Monday, I'd line something up on a Tuesday."
Resources for Men in Nursing
American Association of Male Nurses: Although membership is open to all genders, this organization does offer specific career advice for men entering the nursing field, along with a conference, scholarships, and career center. 
Minority Nurse: This website and journal offers guidance and support for minorities in the nursing field, including men. 
Ready to Start Your Career as a Male Nurse?
If you're looking to get started on your career as a nurse, you can begin by exploring some of the different career pathways available, what education you will need, and what schools might be a good fit for you in our Nursing Education Center. 
FAQs
Is nursing a good career for males?

Nursing is a great career choice for males due to the high demand for nurses, career stability and growth opportunities, a well as a high average salary and work-life flexibility. There are endless options in nursing, whether you prefer the fast pace of a flight nurse or one-on-one patient care in the ICU. 

Why are male nurses in high demand?

All Registered Nurses are in high demand, as there is a nursing shortage in the U.S. that is only predicted to grow. Male nurses only make up 12-13% of the nursing profession, so there is a higher demand for male nurses. 

Why should men become nurses?

Nursing is a field that offers an opportunity to get involved in at any age, making it ideal for both young male nurses or males looking for a mid-career change. Men who value career stability, flexibility, high-pay, and have a desire to help others, along with an interest in healthcare may be a great fit for the nursing field. 

How much do male nurses make?

Registered Nurses, on average, make an annual salary of $73K in 2019, according to the BLS. Your exact salary can vary, based on specialty certifications, settings, and if you work overtime or night shifts. 

Where do most male nurses work?

A large majority of male nurses work in hospital settings, but opportunities in the nursing profession range from healthcare facilities to public health to academic settings.