How to Earn Your CRNA Degree
Certified Registered Nurse Anesthetist is the highest-paid nursing career, with CRNA's earning $167,950 per year, on average. It's also one of the fastest-growing areas of nursing, and one of the most in-demand careers.
In this guide, you'll learn everything you need to become a Certified Registered Nurse Anesthetist.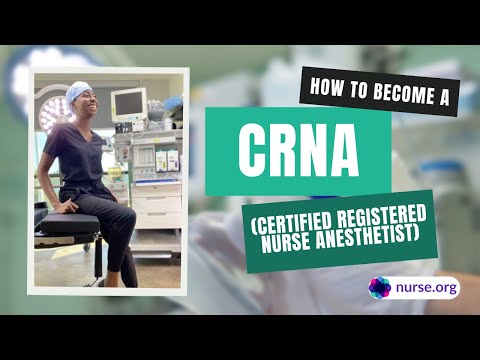 Certified Registered Nurse Anesthetist (CRNA) Overview
A CRNA, while an advanced degree, is not considered a terminal degree, whereas a DNP or DNAP is for Nurse Anesthetists. Currently, individuals can earn either an MSN, DNP or DNAP depending on the anesthesia program they attend. While there might not seem to be a big difference between the different degrees, the Council on Accreditation of Nurse Anesthesia Education (COA) is transitioning to new requirements for entry into practice for all CRNAs. 
By January 1, 2022, all Nurse Anesthesia programs must be doctoral degrees in order to maintain accreditation. Despite this deadline, the Council has extended the deadline to 2025 in order for CRNA programs to develop the proper curriculum that adheres to all national standards. Since MSN programs take over 2 years to complete, 2019-2020 cohorts will likely be the last MSN-educated CRNAs in the field. 
This is extremely important for nurses interested in pursuing a career as a Nurse Anesthetist. As a result of this change in accreditation, the programs will have an extended focus on theory, may take longer to complete, and costs might rise. At the time of publication, most major programs are still working on changing the curriculum to meet the new requirements.
>> Related: MSN vs DNP -- Which is Better?
Advantages of a Certified Registered Nurse Anesthetist Degree
Being well paid, highly respected and in-demand are just a few of the many advantages to becoming a Certified Registered Nurse Anesthetist. The CRNA degree is one of just four available advanced practice nurse degrees: the others are Nurse Practitioner, Certified Nurse-Midwife and Clinical Nurse Specialist.
All four degrees provide Registered Nurses with expanded skills and knowledge at the post-graduate level, but the CRNA is the only one that specializes in the administration of anesthesia. In the face of a growing shortage of physicians, CRNAs have become the main providers of anesthesia in rural America and are sought after by all types of medical facilities. 
There are so many advantages to becoming a Certified Registered Nurse Anesthetist. Here are just a few:
Generous compensation. According to the Bureau of Labor Statistics, Certified Registered Nurse Anesthetists earn a median national annual salary of $181,040, more than twice that of Registered Nurses and over $60,000 per year above the median pay for other Advanced Practice Registered Nurses.
Autonomy and responsibility. CRNAs enjoy the ability to work with a high degree of independence and autonomy. Their delivery of anesthesia is performed in the exact same way as when physicians administer it: the only difference is that one is referred to as the practice of nursing and the other as the practice of medicine. Seventeen states' governors have opted out of the requirement for CRNAs to work under a physician's supervision, allowing them to work entirely independently. 
Connection with patients. Though much of the care that CRNAs deliver occurs when patients are not conscious, they also have the opportunity to meet with patients prior to their surgery to reassure them and answer all of their questions, as well as to take them to the recovery room.
High level of job satisfaction. CNN Money ranks Certified Registered Nurse Anesthetist as #41 out of the top 100 best jobs in America, in part due to their personal satisfaction in their job and in part due to the benefit they provide to society.
Wide range of practice environments. Certified Registered Nurse Anesthetists practice in a wide range of job settings, including hospitals, ambulatory surgical centers, women's clinics. private physician's offices, dental offices and more.
What is a Certified Registered Nurse Anesthetist Degree?
The degree conferred upon Certified Registered Nurse Anesthetists gives them the skills and knowledge to provide anesthesia to patients prior to medical procedures, to monitor them while they are under anesthesia, and to provide care for patients before, during and after anesthesia. They also document all aspects of the medications and equipment used and patients' responses. 
To become a Certified Registered Nurse Anesthetist, candidates begin with becoming a licensed Registered Nurse. This entails having earned either a Bachelor of Arts or Bachelor of Science in Nursing or a Master of Science in Nursing degree and having passed the NCLEX-RN. Before entering a CRNA program nurses will need to complete a minimum of one year working full time as a Registered Nurse in a critical care setting. 
CRNA programs vary in length depending upon the accredited nurse anesthesia educational program that is chosen, but most last between two and four years and add up to graduates having accumulated over 9,000 clinical hours, as well as extensive classroom learning. Following graduation, CRNA students take the National Certification Exam administered by the National Board of Certification and Recertification for Nurse Anesthetists, and must maintain their certification through a Continued Professional Certification Program that entails an 8-year cycle of continuing education classes, professional development, and additional core modules.
CRNA Salary 
Certified Registered Nurse Anesthetist salaries are among the highest in the nursing profession. While the Bureau of Labor Statistics reports that the national median salary for CRNAs was $174,790, Becker's Hospital Review took a more granular view to see how incomes for the profession varied by state and found that the highest average CRNA salaries are paid in Montana (246,370) and the lowest average CRNA salary was found in Idaho ($143,270). 
In addition to earning substantial salaries, CRNAs can expect to be offered attractive employment benefits that go beyond the typical offerings of health insurance, vacation and sick time to include perks such as on-site childcare, financial incentives for healthy living, tuition reimbursement and career coaching.
Career Outlook
There is a growing and well-documented nursing shortage that is expected to continue through the year 2030, and that means the demand for nurses of all types and working in all specialty areas will be in constant demand for the foreseeable future.
For Certified Registered Nurse Anesthetists, the employment outlook is particularly strong, as the current anesthesia model of care, which centers on a physician anesthesiologist, is being increasingly criticized as it drives costs up without improving quality, outcomes, morbidity or mortality. CRNAs are likely to be providing more and more anesthesia care on their own, without the need for supervision, and that will lead to more and more facilities looking to hire these highly skilled professionals.
Certified Registered Nurse Anesthetists work in a wide range of healthcare settings, including:
Hospital surgical suites
Critical care hospitals
Ambulatory surgery centers
Hospital obstetrical delivery rooms
Private practice dentistry offices, podiatry offices, plastic surgery offices, and ophthalmologists' offices
Pain management centers
U.S. military and Veterans' Affairs hospitals
Community care clinics
Key Differences Between Certified Registered Nurse Anesthetists and Nurse Practitioners
Both Nurse Practitioners and Certified Registered Nurse Anesthetists are highly educated, highly trained advanced practice registered nurses who have attained a minimum of a Masters of Science in Nursing and have been specifically trained with an eye to critical analysis and evidence-based decision making. Both types of professional command significantly higher salaries than registered nurses, as well as the respect of other healthcare professionals, but Certified Registered Nurse Anesthetists earn an average of $60,000 more per year than Nurse Practitioners do. 
Certified Registered Nurse Anesthetists receive highly specific and technical training that gives them the expertise they need to administer and manage anesthesia with the same proficiency as anesthesiologists, and in many settings they're able to do this without any physician supervision. Where Nurse Practitioners may have their own practice and have the opportunity to establish long-term caregiver relationships with their patients, CRNAs provide care to surgical and pain patients when they are most in need of comfort and assurance. Nurse Practitioners frequently work in private practices, where CRNAs are more likely to work in surgical or hospital settings.
Types of CRNA Programs 
Though there are several available routes to becoming a Certified Registered Nurse Anesthetist, all begin with programs that have been accredited by the Council on Accreditation of Nurse Anesthesia Educational Programs, and all involve earning a BSN, being certified as a Registered nurse through NCLEX-RN and then pursuing your MSN or DNP degree.
A quick search of the online database reveals that there are a total of 121 programs available, which means that whether you're looking for in-person education or an online degree, a post-master's certificate or have not yet earned your BSN, you'll be able to find a program that suits your need. Take the time to fully explore every program that matches your criteria, as you'll find that every school has its own philosophy, requirements, and approach. 
Accelerated RN-BSN-MSN program. Many nurses come to the profession with a degree focused outside of nursing science, but if you want to move into a position as a CRNA, you'll need to complete the courses required for a BSN. An Accelerated RN-BSN-MSN program allows you to complete all of those steps in a comprehensive format that expedites the process and provides you with all you need in terms of both classroom learning and the required clinical hours.
MSN-CRNA program.  These programs last anywhere from two years to just over four years, depending upon the focus of study and the individual school curriculum. There is a wide range of expectations and requirements in terms of both classroom hours and clinical hours, with the national average of hands-on experience required for a CRNA totaling 9,369. 
DNP. For nurses who want to become CRNAs, the Doctorate of Nursing Practice provides an education that goes beyond what is presented in MSN programs, preparing graduates for careers both in their profession and in community health, research, policy and leadership. It is expected that the Doctor of Nursing program will eventually become the standard for all advanced practice nurses, as the American Association of Colleges of Nursing has endorsed that goal. 
Post-Masters Certificate in CRNA – Advanced Practice Registered Nurses who have already earned their MSN and who then choose to take the Certified Registered Nurse-Anesthetist certification exam can take a specialized program that provides the education and training needed. These programs can be taken on either a full-time or part-time basis and generally involve 52 hours of combined academic and clinical hours.
>> Related: Top CRNA Schools in Every State
Online CRNA Programs 
Nursing is a hands-on profession that requires a significant amount of hands-on training. Still, technology has presented those who wish to become Certified Registered Nurse Anesthetists with the ability to fulfill many of their educational requirements online so that they continue to work and to fulfill their family responsibilities. Though online Certified Registered Nurse Anesthetist programs do have requirements for completing a certain amount of academic hours in person, the curriculum usually limits that attendance to concentrated periods of time two or three times per semester, and allow nurses who are working to make arrangements for practicum hours to be fulfilled near to their homes.
Not only do accredited online CRNA programs provide all of the education and experience that is needed to graduate with the same knowledge and skills as traditional, in-person programs, but they are often more affordable, while providing the ability to continue earning income to help pay for tuition.
Online programs are available all over the country, and you can find excellent choices close to home as well as at schools that are hundreds of miles away. When investigating, make sure that you understand all of the attendance and clinical hour requirements of these programs so that you're sure that they'll fit your specific needs and abilities to attend.
CRNA Program Length
CRNA programs, regardless of whether an individual will earn their MSN, DNP, or DNAP, are all extremely time-consuming. Students are highly discouraged to work as they are expected to spend approximately 60 hours a week studying and preparing for class, on top of the time spent in the physical class. During practicum, students have call time and work full-time hours while still taking classes. Some programs will offer a stipend to students. 
CRNA programs are between 24-51 months of full-time classes depending on university requirements. Some programs will split it into 9 distinct semesters with holiday and summer breaks, while others will have their students continue right through the program. 
Classes and Clinicals
The Council on Accreditation of Nurse Anesthesia Educational Programs has established standards for both clinical education and program accreditation, including entrance requirements for applicants to these programs. For a program to be accredited, it needs to demonstrate that it will be able to provide the "potential for professional and educational growth of students and faculty," as well as a curriculum that will allow its graduates to pass the CRNA certification exam.
The standards require that full-time anesthesia programs be at least 24 months in length and that part-time programs provide the equivalent amount of time. Coursework should include:
Pharmacology of anesthetic agents and adjuvant drugs (105 hours)
Anatomy, physiology and pathophysiology (135 hours)
Professional aspects of nurse anesthesia practice (45 hours)
Basic and advanced principles of anesthesia practice including physics, equipment, technology and pain management (105 hours)
Research (30 hours)
Clinical correlation conferences (45 hours)
Radiology and ultrasound
Every accredited CRNA program uses these standards as the foundation on which it builds its own individual curriculum and requirements. 
Certified Registered Nurse Anesthetist Program Requirements
Though every CRNA degree program is different, all have to meet the entrance requirements that the Council on Accreditation of Nurse Anesthesia Educational Programs imposes in order to gain and maintain accreditation. These generally include:
Unencumbered, active RN license
BSN degree (unless pursuing an RN-to-BSN-to-MSN program)
Minimum of one year of experience as an RN in a critical care setting
Official transcripts demonstrating academic success in Bachelors-level degree programs
Minimum 3.0-grade point average 
Minimum GRE score of 300 or better
Prerequisite courses 
Personal letters of recommendation
TOEFL test if applicable
Applicants for DNP-level CRNA programs must have both ACLS and PALS certification before beginning clinical activities and should have demonstrated independent decision=making skills using and interpreting advanced monitoring techniques based on knowledge of physiological and pharmacological principles
Graduates of CRNA programs must also pass the National Board of Certification and Recertification for Nurse Anesthetists' credentialing exam and to continuously recertify on an 8-year cycle that is administered using a two-year check-in program to ensure that CRNAs maintain their licensure.
CRNA Program Cost
CRNA programs are costly, but studies have confirmed that when compared to the high earnings potential it provides, it is well worth it. Though most CRNA students graduate with over $100,000 in student debt, the ability to begin earning up to three times what you previously were makes that investment and temporary financial stress well worth it. 
Costs can also be managed through careful selection of a program that is within your means: public CRNA programs average approximately $40,195 while private programs add $20,000 with a median cost of $60,941. The national average is $51,720. With the national average compensation well above $150,000, CRNA graduates will quickly be able to pay off loans and significantly improve their economic position. 
How to Pay for the CRNA Program 
There are very few Registered Nurses who can enter a CRNA program without financial concerns: most have to seek loans, scholarships, grants, or some other form of financial assistance in order to afford the costs of tuition. Fortunately, there are several resources available to help you manage the costs. Here are just a few:
Scholarships – Whether you find a scholarship whose goal is the support of a particular demographic of which you are a member, to encourage people to pursue advanced nursing education, or to specifically support those who want to become CRNAs, there are numerous opportunities available. 

AAUW Career Development Grants -  The American Association of University Women provides funding for women who earned a bachelor's degree at least five years earlier and who are preparing to advance or change careers. Grants range from $2,000 to $12,000.
AfterCollege/AACN $10,000 Scholarship Fund - For students pursuing a bachelor's master's or doctoral degree in nursing. One scholarship in the amount of $2,500 is awarded each quarter.
AANA Foundation Scholarships – The American Association of Nurse Anesthetists administers multiple scholarships specifically created to support CRNA-degree candidates who have completed at least six months of their program.

Tuition reimbursement through your employer – Employers in healthcare are acutely aware of the looming nursing shortage, as well as of the tremendous value that CRNAs provide to their facility. Many offer tuition reimbursement and student loan forgiveness as part of their recruitment and retention programs.
Your program's financial aid office – Financial aid offices are among the most underutilized tools available to CRNA students. The professionals who work in these are offices are there specifically to help ease the financial burdens of those who have been accepted into their programs. Be sure to check in with them to see what resources they can provide or direct you to. 
Loan repayment programs – The Health Resources and Services Administration (HRSA) and the National Health Services Corporation (NHSC) are just two of the programs that provide loan repayment programs in exchange for service to specific, underserved communities. Many CRNAs find it extremely meaningful to begin their careers by working in communities where there is desperate need.
How do I get my CRNA certification?
After graduating from an accredited nurse anesthetist program either with an MSN, DNP, or DNAP, individuals will be able to take their National Certification Exam (NCE) administered by the National Board Certification and Recertification for Nurse Anesthetists (NBCRNA).
Passing this examination is what allows CRNAs to practice at the bedside in this capacity. Without passing the certification exam, individuals are not allowed to work as a CRNA.
About the National Certification Exam (NCE):
The test consists of 100-170 test questions, including 30 random, non-graded test questions
It is a computerized examination
Preliminary exam results are delivered immediately following completion of the exam 
Official results are mailed 2-4 weeks after the exam 
The cost of the exam is $995
According to the NBCRNA, in 2018, 3,053 individuals took the exam with a first-time pass rate of 84.3%.
Test takers have three hours to complete the exam, which includes questions related to:

Basic sciences (25 percent)
Equipment, instrumentation, technology (15 percent)
Basic principles of anesthesia (30 percent)
Advanced principles of anesthesia (30 percent)
The length of the examination is NOT an indication of a pass or fail result. The number of questions is determined by the performance on the questions that are given during the exam.
After successfully passing the NCE, individuals must apply for an Advanced Practice Registered Nurse (APRN) license in the state they wish to practice. There is no additional examination for this, but there are fees and paperwork. CRNAs can hold multiple state licenses similar to an RN license. Each state has its own monetary requirements, so it is important to explore the State Nursing Board's webpage for additional information.
The NBCRNA offers subspecialty certification in nonsurgical pain management. CRNAs who obtain certification are competent in neural or neuraxial blocks and alternative techniques for the management of acute and chronic pain (pharmacologic and nonpharmacologic). Criteria for examination include:
Unrestricted RN/APRN license
Current CRNA certification
At least two years of nurse anesthetist clinical experience
Attestation of being actively engaged in nurse anesthesia practice
Evidence of completion of education in specific pain management areas
Three letters of support from colleagues who have observed the practitioner's techniques
Successful completion of a simulation course
Successful completion of the certification exam
What is the CRNA recertification process?
The recertification process for CRNAs can be confusing. It is a combination of continuing education hours, practice hours, and examinations. CRNAs will have to recertify both their state-level APRN as well as their CRNA certification. Some of the hours can be used for both requirements but it depends on the state's individual requirements.
The NCE recertification is broken down into two-year blocks. CRNAs will have to complete a two-year check-in and by year four are expected to complete the following:
60 Class A CE Credits
40 Class B Credits
4 CPC Core Modules (optional)
NO CPC Examination
During the second four year cycle, the requirements are:
60 Class A CE Credits
40 Class B Credits
4 CPC Core Modules
First CPC Examination (does not affect certification)
What is the CPC exam and why do CRNAs need to take it?
The CPC examination is a new requirement that is starting to be implemented. According to the NBCRNA, the first CPC exam (mandatory by 2024 or 2025) will be used to familiarize CRNAs with the exam content/format and will not impact certification. Essentially, CRNAs will have to take the CPC examination once every eight years.
Additional information regarding the CPC includes,
Fee: $295
Can be taken at home, work, or testing center
150 scored items
Closed-book assessment
Three-hour time limit
Must be taken six months before the end of the individual's CPC cycle
As of February 2019, the NBCRNA has removed the pass/fail component of the exam that does not directly impact recertification. The score for the CPC Assessment is measured against a performance standard for all currently certified nurse anesthetists as of 2020.
APRN recertification will vary by state, but is typically every 2-4 years and includes:
Practice hours
Continuing education hours
Monetary fee
This assessment is only taken once, regardless of your score, and is used as a performance standard assessment and to provide feedback and point out areas where further study may be needed. While not passing the exam has no direct impact on a nurse anesthetist's certification, individuals that do not receive a passing score will have additional target continuing education in an area where a performance standard was not met. These continuing education components must be completed in order to maintain certification.
Next Steps to Enroll In a Certified Registered Nurse Anesthetist Program
Once you've made the decision to enroll in a Certified Registered Nurse Anesthetist Program, you have a lot of work to do. You need to identify the programs you want to apply to, ensure that you meet all of their requirements, gather all documentation and more. Here is a preliminary checklist:
Investigate your options. With 121 accredited programs to choose from, your first step should be to make a list of your own priorities and what you need or want from a program.
Put together a spreadsheet listing each program's application criteria and start collecting your documentation. Organization is the key to a successful application, so having a comprehensive list will facilitate a systematic approach to meeting and collecting documentation of each requirement and deadlines.
Send in your applications.
Apply for financial aid, scholarships, grants.
Is a CRNA Degree Right for Me? 
Certified Registered Nurse Anesthetist programs are clearly not the right choice for people who like things easy and predictable. The course of study is rigorous and demanding and once you've become a CRNA you will find yourself immersed in complex cases that can take unexpected turns and require critical thinking. Being a CRNA requires a high degree of responsibility and preparedness: there's never a dull moment in this job.  But if you are looking for a highly compensated, highly respected field that allows you to combine a compassionate and caring bedside manner with technical proficiency, leadership and independent thinking, then becoming a CRNA may be the right choice for you.
References
New England Journal of Medicine
American Association of Nurse Anesthetists
Council on Accreditation of Nurse Anesthesia Educational Programs
South Carolina Association of Clinical Nurse Anesthetists
National Board of Certification and Recertification for Nurse Anesthetists
National Council of State Boards of Nursing
Pediatric Nursing Certification Board
American Association of University Women