Wound care nurses (WOC nurses) bring their skills and techniques together to heal patients both physically and mentally. Nurses who decide to become certified in wound care are entering an in-demand specialty. Read on to learn about this important branch of nursing including how to become a wound care nurse and how much you can make.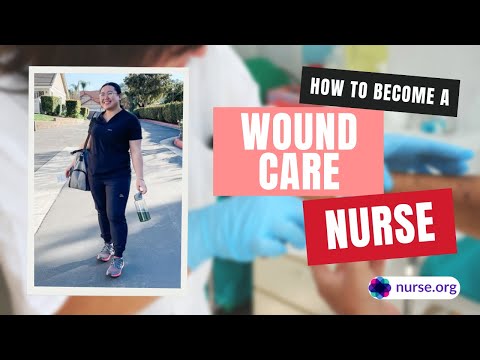 Part One What is a Wound Care Nurse?
A Certified Wound Care Nurse is a nurse that has become certified in treating wounds (CWCN), continence care (CCCN), ostomies (COCN), or all three, making them a fully Certified Wound Ostomy and Continence Nurse (CWOCN).
These certified nurses are considered experts in their field of wound treatment and typically work dedicated positions in hospitals, nursing homes, and home health agencies. They receive consultations for treatment and monitoring of wounds/ostomies, provide direct care, educate patients, families, and nurses, and manage wound care programs.
According to the Wound, Ostomy, and Continence Nursing Certification Board (WOCNCB), more than 9,700 Wound, Ostomy, Continence and Foot Care nurses are currently certified by the WOCNCB. But don't be fooled, passing the certification exam is difficult and requires determination, skill, and preparation. As of December 2020, the following pass rates for certification:
Wound Care - 76%
Ostomy Care - 78%
Continence Care - 86%
Foot Care - 92%
Why Should You Become Certified in Wound Care?
Becoming a wound-care certified nurse opens the doors to more job opportunities, higher pay, professional prestige, and personal satisfaction. It also fulfills continuing education requirements for nurses. 
Part Two What Do Wound Care Nurses Do?
Because certified wound care nurses are a specialty of nursing, they are consulted by physicians, give recommendations, and treat and follow up with patients just as any consulting team does.
Many wound care teams will draft and institute wound, ostomy, and incontinence policies. Other responsibilities include, 
Assess and monitor wounds
Caring for ostomies 
Collaborating with other healthcare professionals
Completing proper documentation for Medicare reimbursement 
Debriding, cleaning, and bandaging wounds
Educating patients and caretakers on wound care, infection and injury prevention, and pressure ulcer care
Prescribing antibiotics
Providing burn treatment and management 
Providing diabetic foot care
Working with the care team to determine if other treatments are required
Work with the care team to determine if antibiotics, surgery, hyperbaric oxygen therapy, or other treatments are needed
Writing orders to promote wound healing and avoid skin breakdown
Writing orders to promote wound healing and the prevention of skin breakdown
Part Three Wound Care Nurse Salary
The median annual salary for all RNs is $77,600 per year, or $37.31 per hour according to the U.S. Bureau of Labor Statistics (BLS), as of June 2022, though conditions vary by area. Unfortunately, the BLS does not differentiate between different types of nurses or those with certifications.
However, many employers offer a salary differential for this role because certified wound care is considered a specialty. According to Indeed.com, the national reported average salary for wound care nurses (doesn't specify certification) is $99,503 as of June 2022, though conditions vary based on area. Currently, Kansas pays 38% less than the national average. 
Highest Paying Cities for Wound Care Nurses
Chicago, IL - $107,903
Philadelphia, PA - $104,969
Dallas, TX - $103,632
Houston, TX - $101,633
Phoenix, AZ - $101,394
Part Four How to Become a Wound Care Nurse
Step 1: Earn Your BSN
To be certified by the Wound Ostomy and Continence Nursing Certification Board (WOCNCB), a bachelor's degree in nursing is required.
Step 2: Attend a Board Approved Certification Program
The WOCNCB is a commonly recognized certifying board exclusively for nurses. There are other certifying bodies, like the American Board of Wound Management (grants the Certified Wound Specialist certification) or the National Alliance of Wound Care and Ostomy (grants the Wound Care Certification). Both are open to many healthcare professionals, including physical therapists, physicians, licensed vocational nurses, etc. It is important to check with your facility about which certification they recognize.
Gaining certification from the WOCNCB requires that you obtain schooling from one of their board-approved list of programs. These include both brick and mortar universities as well as online-only schools. The curriculum will typically include 2 semesters (about 15 credit hours) worth of courses, with a separate clinical component in which students must find a board-certified preceptor. Clinical practicum hours may range from 140-180 hours. The cost of education varies by program and can be anywhere from $2,500 to $6,500 depending on how many specialties of wound care you are certified in (i.e. only wound care versus wound, ostomy, and continence).
>> Explore Wound Care Certification Review Materials* 
Step 3: Or Obtain Certification Via Experience
There is also an option to obtain certification via experience. This requires 50 related CEs and 1500 hours of clinical exposure for each branch of certification desired, over the last 5 years. Recertification for all specialties occurs every 5 years.
Step 4: Pass the Exam
The cost of the actual exam varies depending on how many specialties you are pursuing. One specialty is $395. Four specialties are $670. A discount of $100 is granted for those who fail the exam the first time and wish to take it again.
How Long Does it Take to Become a Wound Care Nurse?
Most wound care certification programs take approximately 2-3 months to complete, then you'll need to take and pass the certification exam in whatever specialty you've chosen. 
Part Five Wound Care Nurse Jobs
Many facilities have a designated position for certified wound nurses. It is typically a salaried position with a subsequent eight-hour weekday schedule. Some hospitals have wound care teams where certified nurses work on wound prevention, receive consults, and treat patients throughout the day.
There are also travel nurse positions for wound care nurses, with pay packages comparable to those in other specialties.
Check out wound care nurse jobs hiring in your area on our job board.
Part Six Are Wound Care Nurses in High Demand?
The career outlook is expected to increase for many reasons. According to the Centers for Disease Control and Prevention, the 2020 National Diabetes Statistics Report, the number of diabetic cases in the United States is rising, and rising dramatically. A few staggering statistics include, 
34.2 million Americans—just over 1 in 10—have diabetes.
88 million American adults—approximately 1 in 3—have prediabetes.
New diabetes cases were higher among non-Hispanic blacks and people of Hispanic origin than non-Hispanic Asians and non-Hispanic whites.
For adults diagnosed with diabetes:

New cases significantly decreased from 2008 through 2018.
The percentage of existing cases was highest among American Indians/Alaska Natives.
15% were smokers, 89% were overweight, and 38% were physically inactive.
37% had chronic kidney disease (stages 1 through 4),; and fewer than 25% with moderate to severe chronic kidney disease (stage 3 or 4) were aware of their condition.

New diagnosed cases of type 1 and type 2 diabetes have significantly increased among US youth.
For ages 10 to 19 years, incidence of type 2 diabetes remained stable among non-Hispanic whites and increased for all others, especially non-Hispanic blacks.
The percentage of adults with prediabetes who were aware they had the condition doubled between 2005 and 2016, but most continue to be unaware.
There is a growing population with a multitude of needs, many of them needing the assistance of wound care experts. There has also been an increasing emphasis on wound prevention in inpatient settings as it is a big cost to hospitals; from treatment to lack of reimbursements to fines, this all provides an incentive for hospitals to hire wound care specialists in full-time roles.
Part Seven Wound Care Nurse Resources
If you are interested in being a part of an exclusive Wound Management chapter, you can consider joining WOCN Society of Nurses. This is a society where wound care nurses share best practices, gain access to research and journals, and continuing education courses. The membership dues range from $60 to $170. For other wound care resources, check out the links below!
*Indicates an affiliate link. At no additional cost to you, Nurse.org may earn a commission if you click through and use this service.
$70,000 - $90,000
Bachelors
Wound Care
Bedside
RN