With more and more nurses wanting to travel the country and still work in a profession they love, travel nursing has become increasingly popular. It offers guaranteed shifts at a higher pay while exploring a new city as often as one wants, generally 13-weeks at a time.
Travel nursing is also very enticing to those that want increased flexibility within the nursing sector that traditional bedside nursing might not offer. In the past three years (due to the COVID pandemic) travel nursing has seen a tremendous surge in demand. 
This guide will give you everything you need to know about travel nursing. Or, if you're ready - you can get started now by visiting our trusted partner, travelnursing.org.
Part One How to Become a Travel Nurse
As with any nursing career, students must first complete and receive either an Associate's Degree in Nursing or Bachelor of Science in Nursing (BSN) from an accredited university. A BSN is preferred for travel nurses because it will give them access to many more job opportunities, including level 1 trauma centers and Magnet-designated healthcare systems. 
After passing the NCLEX (National Council Licensure Examination) exam, individuals must become licensed in their state of practice. The NCLEX is a nationwide examination for the licensing of nurses in the United States and Canada. This schooling may take 2-4 years depending on the length of the program.
The most important element to becoming a travel nurse is experience. Most travel agencies and hospitals require nurses to have a minimum of two years of nursing experience prior to applying for travel nursing contracts. Ideally, nurses should have the following characteristics before pursuing travel nursing, 
Strong clinical background
Leadership skills
Expertise in their field
Adaptability
Flexibility
Solid communication skills
Problem solver
Reliability
Critical thinking
Love of the unknown
Organization
Compassion
Ability to work with a team
Because travel nurses have the ability to move from state to state every few weeks it is important to investigate license requirements in each state. Some licenses can take days or months to obtain while others may require an in-person appearance. There are a handful of states that are considered "walk-through" states which means that a nurse can obtain a temporary nursing license from the board in one day. The licenses are good for 30 days to 6 months depending on the state. These types of licenses are used mostly for "strike" work and crisis contracts.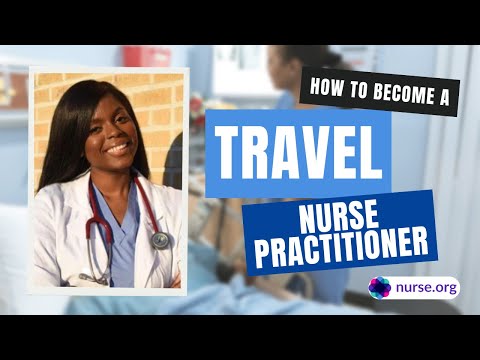 Explore travel nursing jobs now. Sign up with our trusted partner, travelnursing.org, and they will connect you to top agencies today.
Part Two Travel Nurse Salary
The salary for a travel nurse varies the most amongst all of the nursing professions. Travel nurses make on average between $1,300 to $2700 per week. However, it is not unheard of to make over $3,000 per week as a travel nurse. Average annual salary ranges from $44,727 to $106,985. 
During the pandemic, travel nurses made more money than ever before. This was a direct result of the increase in patients, a decrease in healthcare staff due to the virus, and the ongoing staffing shortages. It's important to note that these VERY high rates are not expected to last. 
​​Travel Nurse Salary by State
| | | |
| --- | --- | --- |
| State | Mean Annual | Avg Hourly |
| Alabama | $92,602 | $44.52 |
| Alaska | $94,114 | $45.25 |
| Arizona | $98,292 | $47.26 |
| Arkansas | $81,734 | $39.30 |
| California | $88,691 | $42.64 |
| Colorado | $86,953 | $41.80 |
| Connecticut | $97,321 | $46.79 |
| Delaware | $86,609 | $41.64 |
| Florida | $89,364 | $42.96 |
| Georgia | $94,818 | $45.59 |
| Hawaii | $99,116 | $47.65 |
| Idaho | $83,034 | $39.92 |
| Illinois | $81,291 | $39.08 |
| Indiana | $97,662 | $46.95 |
| Iowa | $88,928 | $42.75 |
| Kansas | $88,565 | $42.58 |
| Kentucky | $83,353 | $40.07 |
| Louisiana | $90,865 | $43.68 |
| Maine | $82,704 | $39.76 |
| Maryland | $92,651 | $44.54 |
| Massachusetts | $101,389 | $48.74 |
| Michigan | $81,578 | $39.22 |
| Minnesota | $93,695 | $45.05 |
| Mississippi  | $82,989 | $39.90 |
| Missouri | $86,234 | $41.46 |
| Montana | $99,314 | $47.75 |
| Nebraska | $91,107 | $43.80 |
| Nevada | $93,373 | $44.89 |
| New Hampshire | $114,727 | $55.16 |
| New Jersey | $97,720 | $46.98 |
| New Mexico | $89,382 | $42.97 |
| New York | $118,145 | $56.80 |
| North Carolina | $74,285 | $35.71 |
| North Dakota | $93,741 | $45.07 |
| Ohio | $93,171 | $44.79 |
| Oklahoma | $84,676 | $40.71 |
| Oregon | $89,723 | $43.14 |
| Pennsylvania | $100,907 | $48.51 |
| Rhode Isalnd | $95,210 | $45.77 |
| South Carolina | $87,174 | $41.91 |
| South Dakota | $91,004 | $43.75 |
| Tennessee | $93,856 | $45.12 |
| Texas | $80,150 | $38.53 |
| Utah | $91,570 | $44.02 |
| Virginia | $89,912 | $43.23 |
| Vermont | $88,686 | $42.64 |
| Washington | $97,787 | $47.01 |
| West Virginia | $102,645 | $49.35 |
| Wisconsin | $94,014 | $45.20 |
| Wyoming | $105,304 | $50.63 |
Source: Ziprecruiter
The pay varies based on the state, the travel staffing agency used, and the department the nurse works in. Nurses with experience in a specialized area such as Neonatal Intensive Care Unit, Operating Room, Cardiac Cath Lab, and Cardiac Intensive Care Unit will earn higher wages than Medical Surgical travel nurses.
Wages for travel nurses involve more than a straight hourly rate. Travel nurses can receive non-taxed stipends for housing and living expenses. Stipends are paid on top of the nurse's hourly rate.  Other benefits for travel nurses, depending on staffing agency,  include, 
Medical, dental, vision insurance
401K investment options
Sign-on, completion, and referral bonuses
Free continuing education courses
License Reimbursement 
Weekly/Bi-weekly Pay
Tax Advantage Plan
Life Insurance
Liability Insurance, Disability Insurance, and Worker's Compensation
24/7 Support
Part Three What Are The Best Travel Nursing Agencies? 
There are several websites online that list and rank travel nursing agencies. However, any experienced travel nurse will tell you that the Recruiter is far more valuable than the travel nursing agency. Why? Travel nurse recruiters are the person between the travel nurse and their job. A great travel nurse recruiter will work hard to make sure you are paid your worth, they will be experienced and honest with you. 
Part Four Be wary of any travel nurse recruiter who… 
Pressures you into being submitted to assignments that you do not want. 
Submits you to assignments without your permission.
Does not show you the full pay package before submitting you to a job.
Make verbal promises and do not back them up in your written contract.
Becomes defensive when you work with other recruiters or agencies.
Does not return communication within 24 hours.
We encourage you to work with travel nurse recruiters who have been vetted and highly recommended by fellow travel nurses or with our trusted partner travelnursing.org.
Part Five Certifications for Travel Nurses
While there are no specific national nursing certifications for a Travel Nurse, having advanced RN certifications can make an individual look more desirable to hospitals. There are a plethora of nationally recognized certifications including, 
The most common certifications for Travel Nurses are,
The most common certifications for Travel Nurses are CPN (Certified Pediatric Nurse), CCRN (Certified Critical Care Nurse), and CEN (Certified Emergency Nurse). See below for additional information about these three certifications
The Board of Certification of Emergency Nursing offers the Certified Emergency Nurse (CEN) for nurses specializing in emergency medicine. In comparison to other certifications the CEN examination has fewer eligibility requirements. There are currently more than 34,000 Certified Emergency Nurses. 
According to their website, to be eligible to sit for the CEN examination, candidates must meet the following requirements: 
An unencumbered nursing license in the United States
Two years of ER experience is recommended, but not required
The exam is offered at computer testing sites throughout the country and the certification is valid for four years. The fee for the exam is $230.
The American Association of Critical Care Nurses (ANCC) offers the Critical Care Registered Nurse (CCRN) national certification. Three exams are offered -  adult, pediatrics, and neonatal. All exams follow similar eligibility criteria and examination guidelines. The difference is in the examination material.
In order to sit for the examination, the individual must meet the following criteria:
Current, unencumbered U.S. RN or APRN license
Practice as an RN or APRN for 1,750 hours in direct care of acutely/critically ill adult patients during the previous two years, with 875 of those hours accrued in the most recent year preceding application OR
Practice as an RN or APRN for at least five years with a minimum of 2,000 hours in direct care of acutely/critically ill adult patients, with 144 of those hours accrued in the most recent year preceding application
The above is for those applying for the adult certification. Individuals interested in the pediatrics or neonatal certifications will need to have direct care time in those fields. AACN members will pay $235 for the exam while non-members will pay $340. Recertification is done by either examination or CERPs and a nominal fee. 
The Pediatric Nursing Certification Board (PNCB) offers the Certified Pediatric Nursing (CPN) certification. According to their website, more than 25,000 nurses currently hold a CPN certification. In order to apply, individuals must meet the following criteria,
Current, valid, unrestricted, and unencumbered Registered Nurse license
A minimum of 1800 hours of pediatric clinical experience completed within the past 24 months as an RN, or
A minimum of 5 years as an RN in pediatric nursing and 3,000 hours in pediatric nursing within the last 5 years with a minimum of 1000 hours within the past 24 months 
The cost of the examination is $295 with a $100 non-refundable registration fee. In order to recertify, individuals must maintain 15 PNCB approved contact hours.
Connect with top travel nursing agencies here to explore high-paying assignments. 
Part Six What are the CEU requirements for travel nurses?
Travel nurses do not have specific requirements beyond state-mandated continuing education. It is important for nurses to remember that they are required to fulfill ALL requirements in which licenses are held including monetary fees. CEUs generally can be used for multiple states; however, some states require specific courses such as Child Abuse, Communicable Diseases, and Bullying in the Workplace. Additionally, states require a different number of CEUs for recertification. All travel nurses are required to maintain an active RN license. Most continue to maintain all active licenses in case they want to work in the state again. 
Examples of continuing education requirements for RNs are as follows: 
Arkansas - 15 contact hours every 2 years
Illinois - 20 contact hours every 2 years
Florida - 24 contact hours every 2 years
Iowa - 36 hours every 2 years
Pennsylvania - 30 contact hours every 2 years 
Some states do not require CEUs to maintain an RN license. Examples include Arizona, Colorado, Connecticut, Indiana, Maine, and Maryland. Several states also require HIV/AIDS education such as New York, Minnesota, and Kentucky. It is important for nurses to check their state's RN credentialing body for exact CEU requirements.
Nurse.org has a comprehensive list of CEUs by state for RNs here.
RN
$70,000 - $90,000
Associate
Bachelors
Travel
Non-Bedside