Nurses make a difference in people's lives in many different ways, and that's just as true for an aesthetic or cosmetic nurse. In this career path, you'd be helping people through the use of non-invasive, in-office treatments such as injectables and skincare treatments. 
Aesthetic nurses often help plastic surgeons and cosmetic dermatologists, providing pre-and post-operative care related to plastic surgery as well as delivering care to patients under the supervision of a physician. 
In this guide, we will explain how to become an aesthetic or cosmetic nurse, the average aesthetic nurse salary, education requirements and more.
Part One What Is an Aesthetic/Cosmetic Nurse?
Aesthetic/cosmetic nurses are registered nurses who provide a variety of services. These can include,
Injections of dermal fillers and Botox neurotoxin
Photofacials
Dermabrasion
Micro-needling
Tattoo removal
Non-surgical body contouring 
Note: some employers use the alternative spelling "esthetic nurse" or "esthetician's nurse" in job descriptions and job listings. In this guide, we're using the traditional spelling, "aesthetic nurse."
Cosmetic nurses usually work in private offices or medical spas affiliated with plastic surgery practices or cosmetic dermatology practices. Cosmetic nurses provide services to a wide range of patients who are seeking a boost in their appearance and self-confidence. 
Most patients who seek this kind of treatment are women, but men are increasingly seeking these treatments too, adding even more demand for medical aesthetics procedures.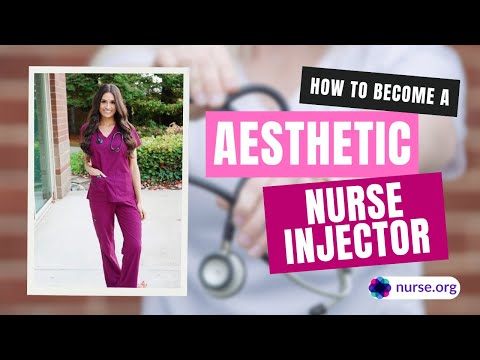 Part Two What Do Aesthetic/Cosmetic Nurses Do?
Aesthetic/cosmetic nurses help plastic surgeons and dermatologists provide cosmetic procedures. These healthcare procedures -- whether invasive or non-invasive -- are usually designed to improve patients' appearance. 
In some cases, patients seek treatment for medical purposes; for others, the procedures can provide a boost of confidence and a more youthful look. 
Whether working full-time or part-time, the job responsibilities that aesthetic/cosmetic nurses perform can include:
Consulting with patients, including scheduling, interviewing and medical screening prior to services being provided.
Examination of skin to assess both aging and other health problems.
Performing pre-operative and post-operative care.
Assisting the physician with procedures and surgeries.
Preparation and sterilization of instruments and surgery suites.
Administering injections of Botox and fillers, performing chemical peels, laser hair removal, dermabrasion, CoolSculpting, removing tattoos, and more.
Aesthetic/cosmetic nurses work in dermatology and plastic surgery offices and medspas, and they may also assist in hospital operating rooms. Occasional emergencies and adverse reactions to treatments can create some schedule unpredictability for surgery nurses, but in most cases, aesthetic nurses work regular hours with no night shifts.  
In addition to being able to work in an environment dedicated to improving patient quality of life, aesthetic nurses can also build long-term relationships with patients who return for maintenance of existing treatments or to investigate additional treatments. 
Nurses who work in medical aesthetics can see the improvements their treatments provide and observe the boost of confidence patients can get from achieving their individual aesthetic goals.
Part Three Aesthetic/Cosmetic Nurse Salary
Aesthetic nurse salaries can vary based upon education, certification, experience and geographic location within the country.
According to the BLS, the average annual salary for registered nurses in 2021 was $77,600 per year or $37.31 per hour. While the BLS doesn't report on salaries for aesthetic nurses specifically, ZipRecruiter reports that the average annual pay for a cosmetic nurse is $88,341, though some cosmetic nurses are earning as much as $132,500.
As is true in most other patient care professions, cosmetic nurses with higher levels of experience in their field receive the highest levels of compensation. Pay is often boosted by additional benefits including paid vacation and sick leave, health, dental, and vision insurance policies, prescription coverage, reimbursement for educational expenses and more. 
>> Related: Aesthetic Nurse Salary Guide
Part Four How To Become an Aesthetic/Cosmetic Nurse
If you want to become an aesthetic nurse, you'll need to complete the following steps. 
Step 1. Earn Your Registered Nurse Degree
Becoming an aesthetic/cosmetic nurse begins with a registered nurse degree, which you can earn through either a two-year associate's degree in nursing (ADN) or a four-year bachelor of science in nursing (BSN) degree. 
Some nurses decide to go beyond the BSN and earn their master of science in nursing in keeping with the national push for advanced practice nurses. 
Step 2. Pass the NCLEX-RN
Once you've earned your RN degree from an accredited nursing program, you'll then need to pass the NCLEX-RN exam to become licensed by one or more states. 
Step 3. Gain Experience 
You'll need to spend at least two years working in core competencies with a board-certified physician in plastic/aesthetic/cosmetic surgery, dermatology, facial plastic surgery, or ophthalmology.
Step 4. Earn a Certified Aesthetic/Cosmetic Nurse Specialist Credential 
To position yourself for the best aesthetic/cosmetic nurse jobs, consider earning the Certified Aesthetic Nurse Specialist credential through the Plastic Surgical Nursing Certification Board. 
To earn this certification, you'll need to take an exam which the PSNCB typically offers in the spring and fall of each year. Unlike some certifications, no special training courses are required to earn the PSNCB certificate. 
To be eligible for certification, you must meet the following requirements:
Be currently licensed as a Registered Nurse in the United States, its territories or Canada, holding a current full and unrestricted license
Have spent at least 1,000 practice hours within the core specialties during the last two (2) years
Have a minimum of two (2) years of nursing experience as a registered nurse within the four Core Specialties in collaboration or in a practice with a physician that is Board Certified within a core specialty. This can be in a general staff, administrative, teaching, or research capacity for at least three (3) years prior to application
Be currently working in collaboration or in a practice with a physician that is Board Certified within one of the following specialties: Plastic/Aesthetic Surgery, Ophthalmology, Dermatology, or Facial Plastic Surgery (ENT)
Have your supervising core physician, who holds a current full and unrestricted license, endorse your application
>> Explore Aesthetic Nursing Certification Review Materials* 
Timeline for Becoming an Aesthetic/Cosmetic Nurse:
2-5 years to earn ADN, BSN or MSN degree
Pass NCLEX-RN exam
2 years working in core competencies with a board-certified physician in plastic/aesthetic/cosmetic surgery, dermatology, facial plastic surgery, or ophthalmology
Part Five 5 Tips To Becoming an Aesthetic/Cosmetic Nurse 
Hello, beautiful people! My name is Sabrina and I am an aesthetic nurse injector practicing out of Bellevue, WA. I have been getting TONS of aspiring aesthetic nurses inquiring about how to get into the industry and I want to help you out.
I am going to give you five tips on how to become an aesthetic nurse injector. 
1: Watch YouTube Videos
Watch as many Youtube videos on the basics of neuromodulators (your Botox, Dysport and Xeomin) and different types of commonly used dermal fillers like Juvederm (Ultra/Ultra Plus, Voluma, Vollure, Volbella, etc.) Restylane (Lyft, Refyne, Defyne etc.), Galderma (Sculptra), and Revanesse (Versa). Look into what they are, how they work, what differentiates them, where on the face they are used, etc.
It seems overwhelming at first, but you'll get it. It's also important to know your facial anatomy and how facial muscles work. Youtube also has great videos on technique and depth, so immerse yourself in all of it. This is a great starting point. 
2:  Attend a Botox and Filler Certification Course
There, you'll learn more about the basics of Botox and filler and get some hands-on experience. You'll also get a certification, which will enhance your resume for future employers.
Most of you don't have experience, which is a turn-off to most employers, so it's important to show initiative! Show that you're willing to do what it takes and pay the price.
Might I add; that the reason why most practices want an experienced injector is because the training is super expensive - we're talking thousands upon thousands!
I've been told by several practices that nurses are notorious for getting their experience at one practice and then leaving to join another. No bueno for business. Anyways, Google, "Botox and filler certifications course near me" to find a course and make sure that it includes hands-on training. I strongly urge you to attend at least one. 
3. Follow Injectors in Your Area on Social Media
Engage, Engage, engage! Like, comment; be their biggest fans. Reach out to them, ask them about their experience as an injector, if their practice is hiring, for shadowing opportunities, if they have any advice for you--establish a connection.
Half of them won't respond but the other half will! In the case that a practice is hiring, you will have leverage based on your continued support and interactiveness on their social. If they agree to a shadow day, make sure you add that to your resume. Anything and everything helps! 
4. Up Your Social Media Game
LinkedIn is a powerful tool for this industry because you can put a face to a resume. Follow as many practices in your area and all of their employees.
Send personalized messages, sharing your passion for the industry and when they have an opportunity for you to reach out.
Again, also ask for shadowing opportunities. They will remember you for being bold and messaging them (not many people do this surprisingly. I would also make sure your headshot is professionally done, so you look the part. 
5. BE PATIENT AND STAY HUNGRY
It took me almost a year to get into the industry. I applied to numerous practices, had several interviews, and was rejected over and over. But I pressed on every opportunity knowing I would eventually get in, and I did.
It ultimately comes down to how badly you want it at the end of the day. Really ask yourself why you want to get into the industry and use your "why" to motivate you in every circumstance. Don't give up babes, you got this!
Part Six What Are the Continuing Education Requirements for Aesthetic/Cosmetic Nurses?
Aesthetic/cosmetic nurses who meet the requirements for Certified Aesthetic Nurse Specialist status need to be recertified every three years.
Requirements for recertification include accumulating 45 contact hours with at least two hours related specifically to patient safety.
At least 30 contact hours must take place within the core specialties: plastic/aesthetic/cosmetic surgery, dermatology, facial plastic surgery, or ophthalmology.
Nurses could also re-take the CANS exam every three years to maintain this certification. Once again, there's no training course required for recertification. 
Part Seven FAQs About Becoming a Aesthetic/Cosmetic Nurse
What Is an Aesthetic/Cosmetic Nurse?

Aesthetic nurses, also known as cosmetic nurses, are registered nurses who provide aesthetic and cosmetic services and care to their patients. These nurses have specialized training in services ranging from fillers, laser skin treatments, liposuction, tattoo removal, aesthetic surgery, and more.

How Do I Become an Aesthetic/Cosmetic Nurse?

To become an aesthetic nurse, you must first complete the education required to become a registered nurse, noting that nurses with their four-year BSN degrees are likely to find it easier to find a job in their chosen profession. After getting your degree and licensure as a registered nurse, look for jobs in skincare clinics, cosmetic surgery practices, or similar areas of the medical field. Then you can seek certification from the Plastic Surgical Nursing Nursing Certification Board (PSNCB).

What Does an Aesthetic/Cosmetic Nurse Do?

Beyond providing inpatient and outpatient cosmetic services such as laser hair removal and skincare treatments, dermabrasion, Botox injections and fillers to provide a more youthful appearance, they also work by the side of physicians such as dermatologists and plastic surgeons as they perform clinical and surgical procedures for patients.

What Are the Educational Requirements to Become an Aesthetic/Cosmetic Nurse?

The path to becoming an aesthetic/cosmetic nurse starts with completing an ADN or BSN degree and passing the NCLEX-RN exam in order to be licensed in your state. Though certification with the PSNCB is not required, it is available and preferred by many employers in this healthcare field.

How Much Does an Aesthetic/Cosmetic Make?

According to ZipRecruiter, the average annual salary for an aesthetic/cosmetic nurse in the United States is just over $88,341. Keep in mind this average reflects advanced practice nurses (APRNs) as well as entry-level nurse salaries.

How Long Does it Take to Become an Aesthetic/Cosmetic Nurse?

Once a registered nurse has her license she can apply for jobs as an aesthetic nurse immediately, but if you are interested in being certified as an aesthetic/cosmetic nurse by the Plastic Surgical Nursing Certification Board you will need two years of experience, including one year in a related specialty area. 
Part Eight Aesthetic/Cosmetic Nurse Resources
Several organizations support aesthetic/cosmetic nurses within the scope of their practice and as they advance their careers. These organizations provide resources to help nurses' professional development, education and research. They also promote patient safety and best evidence-based practices.
These organizations include:
You can also learn more about aesthetic/cosmetic nursing through Nurse.org! Check out our other related articles:
And lastly, it might also be helpful for you to speak to a medical company that sells botox or fillers to doctors and med spas. Oftentimes, they offer free educational resources and training, as well as guidance for nurses who want to become injectors. 
Part Nine Where to Learn More About Aesthetic/Cosmetic Nursing Careers
Beyond reading job descriptions, one of the best ways to determine whether medical aesthetics is the career path for you is to speak directly to a cosmetic/aesthetic nurse currently practicing within a private practice or medical spa. You can also reach out to pharmaceutical companies who sell fillers or botox, as some offer free training and resources for nurses as an incentive to sell their product in medspas, etc. where those RNs will go on to work. 
Nurses trained in cosmetic and aesthetic procedures can raise the level of care for patients who seek improvements in their appearance. These nurses can also earn competitive pay while enhancing the quality of life for their patients.
Whether helping a patient to look younger, removing a regretted tattoo, or smoothing away old acne scars, cosmetic nurses provide their patients with a sense of possibility and self-confidence unlike any other type of nursing specialty. 
Helping patients and earning competitive pay: As a nurse -- whether an RN or an advanced practice registered nurse (APRN) -- you can't ask for more from your profession.
Explore more nursing careers and specialties >>
*Indicates an affiliate link. At no additional cost to you, Nurse.org may earn a commission if you click through and use this service.
$70,000 - $90,000
Associate
Bachelors
Aesthetic/Cosmetic
Non-Bedside
RN