WA Nurses Rally Following Senator's Offensive Comments - Nurse Staffing Bill Passes
While nurses everywhere reacted with gasps of horror, anger, and incredulity at State Senator Maureen Walsh's recent card-playing comments, some nurses in Washington State decided to take action by organizing a Rally for Patient Safety Legislation for SHB 1155. On Wednesday, April 24th, nurses and healthcare professionals gathered on the steps of the state capital to rally in support of an amended version of the proposed Nurses Shifts & Breaks bill.
About The Nurses Shifts and Breaks Bill
The bill initially had proposed limited nursing shifts to a max of 8 hours, enforcing mandated, uninterrupted break times, and giving exemptions to hospitals with less than 25 beds—because as Walsh clearly stated, nurses in smaller hospitals probably have nothing better to do than play cards for "considerable amounts of time" during their shifts, never minding the fact that such hospitals are often critical access points, providing a point-of-care in areas without access to larger hospitals.
Following Walsh's now public apology after the outcry from her statement (and her agreeing to actually shadow a real-live nurse for 12 hours), the bill was actually revised to remove the 8-hour max shift amendment and critical access hospital exemptions, which is what the rally focused on.   
The bill has moved forward to Governor Jay Inslee's desk, and he has promised to sign it.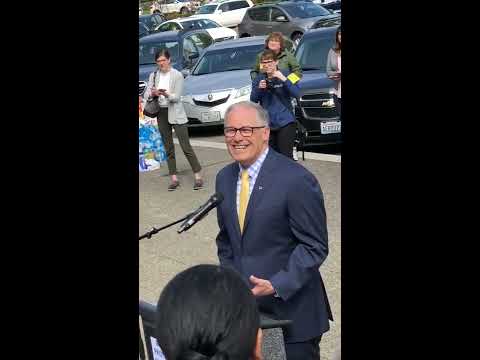 Nurses Rally In WA State
Jenna LaFace, 27, an emergency department Registered Nurse from Seattle, WA tells Nurse.org that she was motivated to attend the rally after seeing a video of Walsh and realizing that, unfortunately, the Senator was speaking on a subject that she "knew little about."
Like many other nursing professionals, LaFace says she felt like her profession was "attacked" through Walsh's words and attending the rally was a way for her to get involved to improve not only working conditions for nurses but the perception of the nursing field as a whole.
Jenna reports that the rally was highly successful. She notes that the people in attendance were "really focused on positive energy and just getting this bill ten years in the making passed."
Along with support for the bill, many different health care professionals gave testimonials on how important breaks are for nurses. "Everyone was SO professional and had the needs of health care workers and our patients in mind," Jenna adds.
Erin Beauchemin, a BSN, RN, CCRN from Seattle, WA, agrees that she was impressed by the professional and respectful environment of the rally, with WSNA and SEIU 1199NW unions as well as smaller nursing unions in attendance. "The atmosphere was exciting and there was a ton of support for nurses and techs," she describes. "Surgical and radiological technicians were also speakers and supportive on the bill on both fronts. I was also impressed that there was a representative from our fellow firefighters and teachers' unions. With so much press lately about wages and working conditions across the state we have to remember that we are all fighting to support the professions that care, educate, and protect communities."
"It is so exciting to see how when we all reach out to our elected officials on things we are passionate about, things can change," Jenna says, adding that she hopes that he does sign the bill, which now has bipartisan support.
Nurses are human and humans need breaks in order to effectively do their job, which in this case, just happens to be saving lives.
For Jenna and other nurses like her, supporting the bill is about recognizing the important work that nurses do every day and night—and changing the tide of culture that demands that nurses work tirelessly without end. The reality is, nurses are human and humans need breaks in order to effectively do their job, which in this case, just happens to be saving lives.
"Can you think of many jobs [with people who] have a direct impact on human life that doesn't get breaks? Probably not," Jenna points out.
"The fact is, medical errors are the third leading cause of death in the U.S. [and] most of that is because of caregiver fatigue. People are more complex than ever before and our laws have not changed to reflect that or our health care providers until now."
The ER nurse also explains that she supports the version of the bill without the 8-hour max shift amendment because frankly, emergencies don't care whether you're on hour one or hour 12.
"Some of my worst shifts have been during a 6-hour stint," she adds. "Our 12-hour shifts are a blessing strictly due to the nature of our work; we deal with the sick and dying every shift. Mandating 8-hour max shifts only disrupts the continuity of care, further endangering our patients." 
And just for the record, because I know you're wondering, Jenna has confirmed to Nurse.org that she has not, in fact, never ever, ever spent any amount of time playing cards while working as a nurse. What she has done, however?
"I have in fact almost aspirated from eating my food too fast!"
Bring on the lunch breaks, SHB 1155!