Telehealth nursing utilizes technology, specifically video conferencing, to deliver nursing care to remote locations that may not otherwise have access to medical care. It's also rising in demand right now due to COVID-19. There's never been a better time to consider a career in telehealth nursing and this guide will explain everything you need to know about it. 
Part One What is a Telehealth Nurse?
Telehealth nurses are Registered Nurses that use telecommunication technology such as video, phone, email, and messaging to provide high-quality care to patients. This is extremely important for those that need highly specialized care and do not have access to specialists.
Telehealth nurses often help patients with minor health problems and can help determine if patients need to seek emergency care, make an in-person appointment with a physician, or can be treated without further guidance. Telehealth nursing is beneficial not only to the patients, but also to the healthcare system. 
Telehealth nursing, telehealth, and nursing telepractice are all interchangeable terms. According to the American Telehealth Association, telehealth nursing is a tool for delivering nursing care remotely to improve efficiency and patient access to healthcare.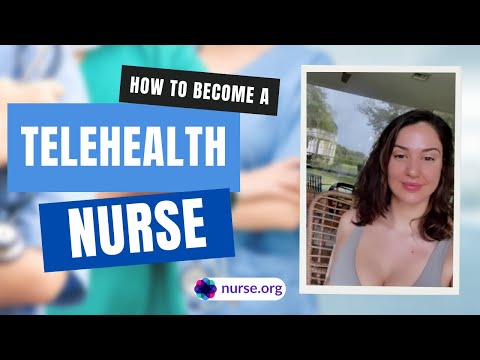 Part Two What Do Telehealth Nurses Do?
Telehealth nurses have a variety of job responsibilities. These will vary depending on the job location and specialty. These responsibilities may include:
Scheduling appointments and referring patients to specialists
Assisting and consulting with patients over the phone or via video chat services
Educating patients on different ways to manage their symptoms
Monitoring patient's oxygen levels, health rate, respiration, and blood glucose
Pre-surgical and post-surgical care  
Assisting doctors in reducing patient load
Providing medical advice for patients with minor health issues
Supporting medical response teams in bringing patients into the hospital
Where Can Telehealth Nurses Work?
Telehealth nurses can work in a variety of settings. Generally, they work from home or in a telephone triage center. Depending on the specialization, telehealth nurses may also work in the following locations:
Physician's offices
Hospitals
Trauma centers
Crisis hotlines
Outpatient care facilities
Poison control centers
Part Three Telehealth Nurse Salary
According to the U.S. Bureau of Labor Statistics (BLS), the median salary for a registered nurse in 2021 is $77,600 per year or $37.31 per hour, but conditions in your area may vary. While they don't report on telehealth nurse salaries specifically, Glassdoor.com reports an average salary of $85,095 for Telehealth RNs and according to Ziprecruiter.com, Telehealth RNs can earn an average annual salary of $74,017. 
Telehealth Nurse Salary by Years of Experience
Specifically, Telehealth RNs can earn a higher annual salary with increased years of experience. According to payscale.com, the following years of service can earn, 
1-4 years of experience earn an average hourly wage of $29.50
5-9 years of experience earns an average hourly wage of $30.75
10-19 years of experience earns an average hourly wage of $29.49
20+ years of experience earns an average hourly wage of $37.00
As with all jobs in the nursing field, earning potential increases with additional education and experience. Nurses typically are awarded a raise during annual employee performance reviews. Certifications can give nurses an additional bump in their paycheck. 
Telehealth Nurse Benefits
Regardless of workplace setting, full-time and part-time nurses enjoy similar benefits. While actual benefits may vary depending on the institution most include the following:
Health insurance
Certification Reimbursement      
Retirement Options
Holiday Pay
Family Leave of Absence
Maternity Leave
Dental Insurance
Dependent health insurance coverage
Life Insurance
Paid time off
Relocation assistance
Childcare
Bereavement leave       
Vision Insurance        
Discounts on extracurricular activities      
Continuing Education Reimbursement
Relocation packages
Attendance at nursing conferences
Part Four How Do You Become a Telehealth Nurse?
To become a Telehealth Nurse, you'll need to complete the following steps:
Step 1: Attend Nursing School
You'll need to earn either an ADN or a BSN from an accredited nursing program in order to take the first steps to becoming a registered nurse. ADN-prepared nurses will need to complete an additional step of either completing their BSN degree or entering into an accelerated RN to MSN program which will let them earn their BSN and MSN at the same time.
Step 2: Pass the NCLEX-RN
Become a Registered Nurse by passing the NCLEX examination.
Step 3: Gain Experience at the Bedside
Bedside experience is essential before transitioning into a telehealth nurse position. Most companies will want several years of bedside experience prior to this.
Step 4: Earn your certification
There is not a specific certification for telehealth nursing; however, because telehealth nurses provide nursing care to patients who are in ambulatory care settings, they are required to possess the knowledge and competencies to provide care to these patients. For this reason, the Ambulatory Care Nursing Certification (RN-BC) is often obtained by telehealth nurses.
Offered by the American Nurses Credentialing Center, this exam is ideal for nurses looking for advanced certification.
RN-BC Certification Requirements
Hold a current, active RN license in a state or territory of the United States, or hold the professional, legally recognized equivalent in another country
Have practiced the equivalent of 2 years full-time as a registered nurse.
Have a minimum of 2,000 hours of clinical practice in ambulatory care and/or telehealth nursing within the last 3 years.
Have completed 30 hours of continuing education in ambulatory care and/or telehealth nursing within the last 3 years.
Additional Exam Information
$395 examination fee. Discounts are available for members of the American Nurses Association and American Academy of Ambulatory Care Nursing.
This certification exam is a 3.5-hour test consisting of 175 multiple-choice items.  
Of the 175 items, 150 are scored and 25 are used to gather statistical data on item performance for future exams.
What's On the Exam?
Clinical Practice 
Communication 
Professional Role 
Systems/Legal and Regulatory
Education
Part Five What are the Continuing Education Requirements for Telehealth Nurses?
Generally, in order for an individual to renew their RN license, they will need to fill out an application, complete a specific number of CEU hours, and pay a nominal fee. Each state has specific requirements and it is important to check with the board of nursing prior to applying for license renewal.
A detailed look at Continuing Nurse Education hours can be found here.
Part Six What is the Career Outlook for a Telehealth Nurse?
According to the BLS, by 2031, there's expected to be a 6% increase in the job growth for nurses. With the aging population, this number is expected to be even higher.
Telenursing jobs are quickly growing and evolving. In fact, the global telehealth market is projected to reach $285.7 billion by 2027. According to the American Telemedicine Association (ATA), half of all hospitals in the U.S. offer some form of telemedicine, while 90% of healthcare executives say they are developing or implementing a telehealth program.
Part Seven Where Can I Learn More about Telehealth Nursing?
Nurse.org has some great resources on telehealth nursing including:
Additional Resources
Telehealth nursing is an interesting and dynamic field. It allows nurses to have autonomy while still delivering high-quality nursing care. Telehealth helps patients who would otherwise need to travel long distances to see medical professionals. 
Part Eight Telehealth Nurse FAQs
How much do telehealth nurses make?

Glassdoor.com reports an average salary of $83,976 per year for Telehealth RNs.

How do I become a certified telehealth nurse?

There is currently no specific certification for telehealth nursing but the Ambulatory Care Nursing Certification (RN-BC) is often obtained by telehealth nurses.

What qualifies as telehealth?

Telehealth includes live video conferencing, mobile health applications, and remote patient monitoring. Technology such as video, telephone, and email are utilized during telehealth. 
$70,000 - $90,000
Telehealth
Associate
Bachelors
Non-Bedside
RN